"Accelerating Social Responsibility (CSR) and New Mythology" - "Glen Rose Perm-Tech Incubator - New Myth #97" by Willi Paul Studio / Planetshifter.com
Submitted by Willi Paul on Sun, 05/14/2017 - 14:10
Axis:Image: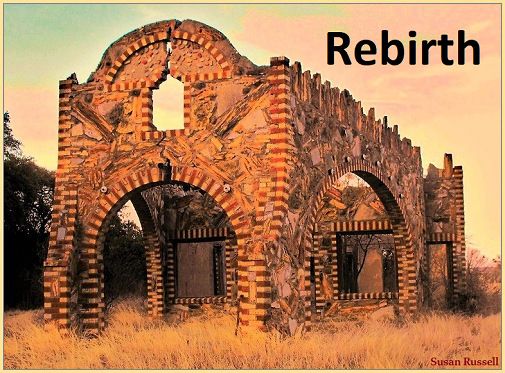 "Accelerating Social Responsibility (CSR) and New Mythology" - "Glen Rose Perm-Tech Incubator - New Myth #97" by Willi Paul Studio / Planetshifter.com
"In my meanderings around the US I have sought out old gas stations. Many are being used by other businesses–auto repair is a popular repurposing, but they run the gamut from thrift stores to funeral homes. Others are vacant but still reusable. And some are just plain falling apart. Each was once a place where our automobile culture stopped for its fossil-fuel fix, maybe just a few years ago or maybe decades ago. They are all over the place, easy to spot once one starts looking. Just look for the overhang, the columns and evidence of the concrete pump 'island.'"
* * * * * * *
- Foundations -
[ I. ] Social responsibility (CSR) is an ethical framework that suggests that an organization or individual has an obligation to act for the benefit of society at large. CSR is a duty every individual has to perform to maintain a balance between the economy and the ecosystem.
[ 2. ] CSR powers Resilience - the empowerment of being aware of your situation, your risks, vulnerabilities and current capabilities to deal with them, and being able to make informed tactical and strategic decisions to maintain balance and health.
[ 3. ] 10 Elements of Modern Myths" (W. Paul, updated 2016): 1. Sci-Fi & Para-normal experiences 2. Universal struggle and narrative 3. Journey, Initiation, Community as Hero 4. Permaculture and Transition Values and Symbols 5. Eco-Alchemy 6. Nature is Sacred 7. Threat of apocalypse 8. Artifact Initiated 9. New rituals and traditions 10. Rewilding
- Accelerating Social Responsibility (CSR) and New Mythology -
Discussion Points:
* CSR's mission includes the responsibility to record and preserve social trends, art and stories for the next generation.
* Social Responsibility is grounded in resilience - also a key source of inspiration for New Mythology in our time.
* CSR is a universal template for ethics – CSR is community-based as is New Mythology.
* CSR and New Mythology are sources of universal ethics and are evolving to support all people's rights on the planet.
* Environmental laws and policy are helping to shape new stories and myths as are business stories and documentaries.
* Artifacts reveal ethical choices and toxic journeys - real / physical (old gas station) and behavioral (leaving messes to next generation) records.
* CSR and New Creation Mythology are combining to teach: "Abandonment > Struggle > Rebirth > Community."
* Business, Political and Natural Ecosystems are now integrated. Nature as Sacred is a universal hybrid ethic emerging now.
* * * * * * *
- New Myth #97 - "Glen Rose Perm-Tech Incubator"-
SunOil is long gone, bankrupt for eons, who left the Rose dusted with toxic soil and crooked smiles, easy prey to the green fangs in Austin. Everyone wants a solution for the decaying gothic gas station dissolving at the intersection of Smith Rd. and HW 13. Good bones but no guts. Fossil Rim Wildlife Center and Dinosaur Valley State Park are attracting less and less screen toting tourists these days and the high school kids want to do something now for their lost generation.
A lefty coalition including the Senior High School Solar Engineering Group, 4H, Somervell County Ag Agency, The Dallas Metro Chapter of the Sierra Club, the Wednesday Night Book Club at the YWCA, plus tons of townies put an initiative on the local ballet for a permaculture-based solution for the gas station. Because SunOil forfeited the building and land, the City welcomed the hands and contributed to the improvements.
As a force of change, Permaculture has its share of baggage. While many practitioners see a global food strategy, many others pass it off as new hippie gardening. It's ethics and principles preach building community and sharing the harvest. But you also hear that it's a top-down, white man's game too often. But no one in Glen Rose is worried about the color of your skin, just how thick it is.
As an artifact in dire need of initiation and a new story, the mosaic-laden building skeleton is deemed sound by the City engineer. The design and construction committee found and installed recycled windows from a Fort Worth skyscraper failure. The floor is now a cool, polished concrete slab with decorative stones from nearby Big Rocks Park. Once a community eye-sore, the station is now all heart; a Hero. The kids packed a new corner stone with CD's, email memos and southern rock memorabilia for Earth Day 3000. The local paper declared the Glen Rose Perm-Tech Incubator sacred ground. A State of Texas historic designation sealed it.
The Town voted to include that the history and technology of the oil industry should be leveraged for a new, greener path forward. The coalition arrived at the startling goal of not stopping at tool rentals and cooking classes and went beyond an initial soil remediation patent to see how this hybrid technology could help clean the polluted air of refineries and other corporate polluters in Texas. The "Perm-Tech Compost Spinner" was invented at the Incubator to clean and separate bad soil and then blend it with refined compost and recycled computer parts. This substance is now added to green air filter technology to scrub CO2 and other airborne toxins from factory towers.
The buzz at this Sunday's pot luck picnic is not the article about the Incubator in Nano-Permaculture Magazine or the girls' softball team win at State, but the Tuesday visit from the Tesla Innovation Team.
Everybody is wearing green.