"Bobcats Mate Now!" - Peninsula Open Space Trust (POST) 2017 Interactive Almanac. PR by Willi Paul, Planetshifter.com
Submitted by Willi Paul on Fri, 01/27/2017 - 18:01
Axis:Image: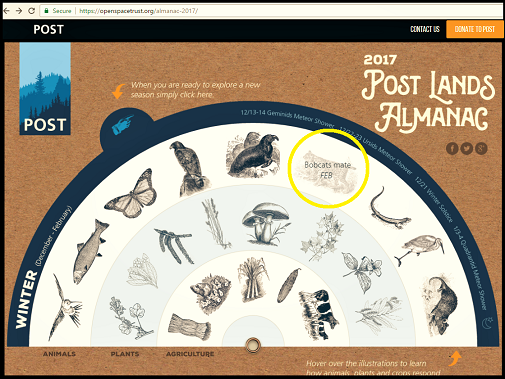 "Bobcats Mate Now!" - Peninsula Open Space Trust (POST) 2017 Interactive Almanac. PR by Willi Paul, Planetshifter.com
How do animals, plants and crops respond to the Four Seasons? Discover Mother Nature's synergies and rhythms in with this terrific NorCal Interactive Natural Events Calendar!
Request the Almanac here:
Mobile Version Available
Plus: Download POST's Natural Guide to Bay Area Birds. This guide has everything you need to get to know 14 of the most iconic birds in the Bay Area - each one unique and important to the health of our open spaces.
Enjoy! Willi