"Resistance and Resilience" – A Proposed Schema by Willi Paul, Planetshifter.com
Submitted by Willi Paul on Wed, 01/25/2017 - 18:46
Axis:Image: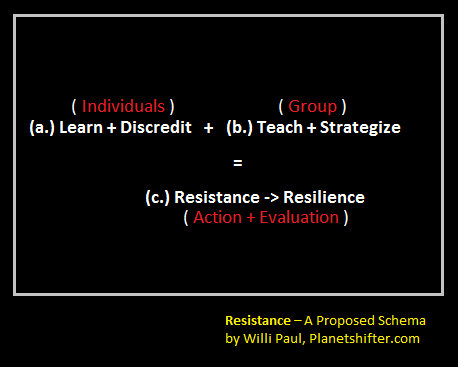 "Resistance and Resilience" - A Proposed Schema by Willi Paul, Planetshifter.com
* * * * * * *
( Individuals )
(a.) Learn + Discredit
+
( Group )
(b.) Teach + Strategize
=
(c.) Resistance -> Resilience
( Action + Evaluation )
The proposed schema claims that resistance builds resilience by (a.) first individuals learning and parsing (discrediting) information then (b.) joining together as a group to re-enforce values and creating strategies to promote their agenda. (c.) Actions then take place with evaluation(s) afterward.
It is also claimed that this process is an integrated, open-ended and self-informing cycle that creates a community knowledge base.
Feedback Requested
Willi Paul – Planetshifter.com