Join the "Local Solutions" Online Roundtable and share your local solutions to local problems. August 23 – Sept 6, 2016. Sponsored by: Transition Palo Alto, Permaculture Magazine NA and Planetshifter.com
Submitted by Willi Paul on Thu, 08/18/2016 - 09:43
Axis:Image: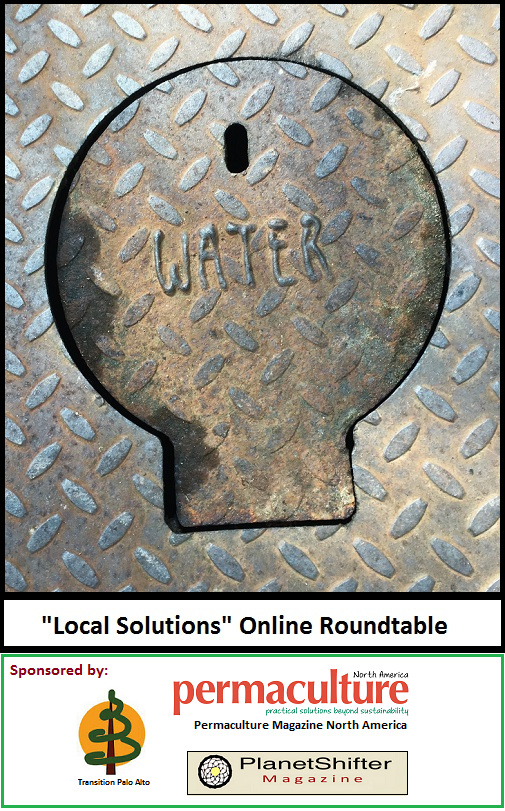 Join the "Local Solutions" Online Roundtable and share your local solutions to local problems. August 23 – Sept 6, 2016. Sponsored by: Transition Palo Alto, Permaculture Magazine NA and Planetshifter.com
* * * * * * *
Share your local solutions to local problems.
Join the event here.
Complete schedule and instructions are below. Please upload your work by September 6, 2016. Please see: "Writers and Artists Online Roundtable: Visions 2040" (and companion artist gallery) as a template experience for this event. Kindly contact Willi Paul (willipaul1 at gmail.com) with questions. There is no charge to participate.
The 10 Local Issues are:
1. Separated neighborhoods
2. Land loss & population displacement due to sea rise and floods
3. Religious intolerance & environmental injustice
4. Too little residential and roof top gardens
5. Political graft & police misconduct
6. No plan for a sharing economy
7. Health insurance for all citizens
8. Failing Public property maintenance (right of way, drains, street lights, parks)
9. Safe drinking water
10. Funding for Local Gov't Services and Staff
* * * * * * *
Roundtable Schedule:
- SUBMISSIONS PERIOD: 8/23 – 9/5
+ Join the event here.
+ Via the new topic option in the Google Group, each member will submit one or more solutions: scenarios, lists, images, poems, sounds, songs, stories, new myths, including supplemental resources to share with the group. Formats are open and include text, image, music files.
+ Members are encouraged to review and offer comments on each others work prior to the Conference Call
- LIVE DAY: September 6th -
5:00 – 6:00 PM PST
+ Join the live discussion via conference call and share your submission details and solutions. Dial-in instructions can be found in the event web site
- POST-EVENT -
+ The event site is transformed into a shared galley and project archive