Join Transition Palo Alto (TPA) at the Mid-Summer Share Faire! Featuring Garden, Goods and Skill Shares including a Mini-Class by Mythologist Willi Paul, entitled: "Transition & The New Mythic Reservoir." 1 - 3 PM, 8/14, Mitchell Park Bowl, Palo Alto
Submitted by Willi Paul on Wed, 08/10/2016 - 20:32
Axis:Image: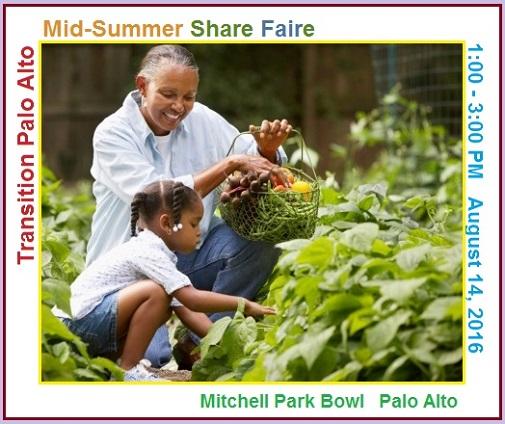 Join Transition Palo Alto (TPA) at the Mid-Summer Share Faire! Featuring Garden, Goods and Skill Shares including a Mini-Class by Mythologist Willi Paul, entitled: "Transition & The New Mythic Reservoir." 1:00 - 3:00 PM, August 14, 2016, Mitchell Park Bowl, Palo Alto.
TPA is a part of a world-wide grassroots movement to build local resilience and connections close to home. Since 2010, we've been mounting creative and thoughtful responses to the challenges of resource depletion, climate change, and economic instability. Help us unleash the power and creative genius of people and communities to create a vibrant future for generations to come.
* * * * * * *
Your Mid-Summer Share Faire…
Is a Garden Share – bring your plants, garden equipment, books and tools, or whatever you want to share. Bring your enthusiasm and knowledge.
This is a Goods Share – bring your gently used books, clothes, fabric, household items and more to share with your neighbors. Take home something new (to you). (Do plan to take home anything you bring that does not find a new home.
Is a Skill Share – we have a number of confirmed demos and classes, including:
+ DIY home cleanser (you get to take some home)
+ Bike repair
+ TPA Mini-Class by Mythologist Willi Paul – "Transition & The New Mythic Reservoir." Please download the class work sheet.
TPA has additional skill shares in the works. We do have room for you! If you have a skill to share, either as an on-going demo or a mini-class, please respond to peterruddock at yahoo.com.
There's still room to volunteer! Greeting, promotion, organizing, set-up, clean-up and more? Take a look at the volunteer opportunities and sign up for one that suits you.
See you in the park this Sunday!