"Protest to Stop the Deforestation and Poisoning of the East Bay Hills, 6/29 at UC Berkeley" – Interview with Isis Feral, Coalition to Defend East Bay Forests by Willi Paul, Planetshifter.com
Submitted by Willi Paul on Sat, 06/25/2016 - 06:15
Axis:Image: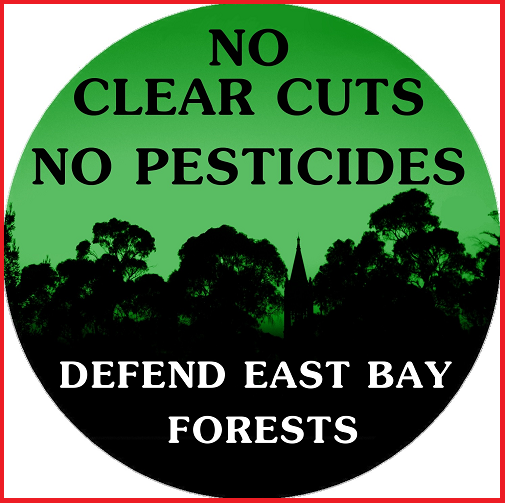 "Protest to Stop the Deforestation and Poisoning of the East Bay Hills, 6/29 at UC Berkeley" – Interview with Isis Feral, Coalition to Defend East Bay Forests by Willi Paul, Planetshifter.com
" As a coalition of East Bay hills residents, we are opposed to the FEMA funded deforestation plan due to it numerous and multifaceted threats. In addition to increasing the risk of another devastating fire, the deforestation/poisoning plan will also expose citizens to large amounts of dangerous chemicals (including school children), exacerbate climate change by releasing 17,495 metric tons of greenhouse gases into our environment, poison, displace and kill wildlife (including several protected species), radically alter the appearance and therefore the experience afforded by our public recreation areas, threaten homeowners values by degrading the aesthetics upon which those values depend, eliminate erosion control for hillside homes, result in (according to FEMA) "significant alternation of community character," and a variety of other harms "to vegetation, wildlife and habitats, protected species, soils, water quality, aesthetics, community character, human health and safety, recreation, and noise" that FEMA admits are 'unavoidable.' "
-- saveeastbayhills.org
Join us to STOP THE DEFORESTATION AND POISONING OF THE EAST BAY HILLS!
Wednesday, June 29, 2016
12 Noon
UC Berkeley (Southside Entrance)
Bancroft Way and Telegraph Ave
Berkeley, California
* * * * * * *
Interview with Isis by Willi -
What exactly is planned for the 6/29 demonstration? Will this be a backlash moment?
We're going to gather at the Southside entrance to UC Berkeley at Bancroft and Telegraph, at noon. Three of the summer sessions are overlapping, so we hope to reach students and faculty during lunch, to alert them that their university is a driving force behind the deforestation and poisoning of the East Bay hills. Together with the East Bay Regional Park District (EBRPD), and the City of Oakland, the university is planning to kill hundreds of thousands of healthy trees.
The public backlash against these projects is not really any one moment, but has been an ongoing process for many years.
Wednesday's demonstration is just one small part of a whole series of actions taken by various community groups and individuals, including previous protests at UC Berkeley by disability rights group CUIDO (Communities United In Defense of Olmstead); and the more recent protests by the Forest Action Brigade against the local Sierra Club's support of these projects, where people burned their membership cards; and last year's photo shoot by Jack Gescheidt of TreeSpirit Project, for which we all disrobed as an act of civil disobedience in the eucalyptus grove on UC Berkeley campus (some may remember TreeSpirit for another photo shoot at the Memorial Oak Grove tree sit).
Over the years East Bay Pesticide Alert has put on several community forums featuring conservation biologist David Theodoropoulos and forest defenders and environmental health activists from around the bay; the Hills Conservation Network, in addition to suing the agencies and FEMA for funding them, has repeatedly debated proponents of these projects; the Death of a Million Trees blog has published an impressive archive of research into the ecological implications; Ken Cheetham of the Bay Area Progressive Directory developed a comprehensive, well-cited list of arguments in opposition; and many others have contributed in various different ways to the struggle.
I've personally been involved since early 2005 when then city council member Jean Quan attempted to add the Oakland projects as yet another exemption to the city's already very weak pesticide ordinance restricting use on public lands. We did not realize back then that they were systematically targeting all these trees, but thought it was mostly about pesticides, which was opposed by the Environmental Health Network and the East Bay Permaculture Guild at that time, among others.
Can you please define "the will of the people?"
Well, you have to ask the people to do that for themselves.
But as it relates to the situation in the hills, 90% of the 13,000 people who commented on the Environmental Impact Statement (EIS) on whether FEMA should fund these projects, expressed their opposition. Since then almost 65,000 people have signed a petition to Oakland and EBRPD to stop these projects. Even more recently a Sierra Club member sent letters to the Bay Area chapter membership asking how they feel about the chapter's promotion of these projects, and only got a couple dozen responses supporting the projects, while more than 1,800 were in opposition, enough that the bylaws now require the Club to conduct an election on the issue.
Whatever the will of the people may be, one thing is clear: the majority of people who have registered an opinion have expressed opposition, and their will is being ignored as these projects continue to move forward, while an even greater majority doesn't even seem to be aware of what's happening.
And of course then there are the other creatures living in the hills, whose will for life and habitat is simply dismissed as collateral damage.
Is Nature a spiritual idea or practice to your citizen activists?
I can't speak for others in the coalition. We are not a spiritual organization. Every member has their own beliefs. We don't require agreement beyond our points of unity, which are simply stated: no clear-cuts, no pesticides, defend East Bay forests. We are also not a citizens organization. Not everyone in the coalition is a citizen.
For some of my comrades spirituality may well be the basis for their involvement, but for me personally it's not. I don't subscribe to any spirituality. But I think you're asking about my relationship to nature, and while I don't define it in spiritual terms, I understand myself to be a tiny organism within a vast, complex natural material world, and I feel a great need to defend its right to exist on its own terms, not controlled by any one species.
Will you employ direct action strategies in order to rally support for the Hills? What might be in store?
That is a possibility that will have to be determined.
During the FEMA EIS scoping hearings, a number of people expressed their intent to take direct action if these projects move forward, and it has certainly been a topic of discussion in the community.
The official nesting and fledgling season ends at the end of July, so come August 1 the park district and UC are likely to move forward with their plans. Oakland is still waiting to complete an Environmental Impact Report (EIR), so will not be participating this year.
Are the perpetrators arguing that clear-cutting the Hills will bring an economic or aesthetic benefit?
Yes, and no.
It's certainly of economic benefit to whoever gets the contracts to implement the destruction. The FEMA funding alone is several million dollars.
But FEMA funding is very specific. These projects are supposed to be for 'hazardous fire risk reduction' only.
FEMA doesn't fund aesthetics projects, though aesthetics are discussed in the EIS, and it is acknowledged that the community's aesthetic enjoyment of the affected areas is likely to be negatively affected.
These projects are being conducted under the guise of fire safety, but they will actually create a much worse fire hazard that will put us all in danger. The trees provide windbreaks for winds that drive fires into neighborhoods, as well as shade and several inches of annual fog drip that keep the vegetation and forest floor moist. Grasslands, which the park district hopes will take over where the trees are killed, are where most wildfires start, as did the 1991 Oakland hills fire.
While fire fears are officially driving these actions, at the root is 'invasion biology', an ideology that masquerades as science, is promoted by the chemical industry, and drives a great deal of government policy in regards to pesticide use. It's chemical warfare against organisms perceived as foreign invaders, and it's what drives programs like the medfly spraying that started in the 1980's, the massive gypsy moth programs across much of the country, the ongoing light brown apple moth program throughout California, as well as the spartina projects that are poisoning shorelines up and down the west coast including parts of the East Bay, and countless other pesticide programs like it. Many of us were injured by the pesticides from these programs invading our neighborhoods.
The trees targeted for destruction in the East Bay hills are considered illegal aliens, and much like human immigrants are unfairly blamed for all sorts of problems that they are not responsible for. This ideology vilifies eucalyptus trees for spreading the 1991 Oakland fire, even though the task force of experts called on by the Oakland and Berkeley mayors to investigate the fire, concluded it was not any trees, but primarily people's houses that spread the fire, and advised that fire safety measures should not target any particular species of tree, no matter where it may have originated. In fact, eucalyptus are not nearly as flammable as the native bay laurel, and many eucalyptus trees remained completely unharmed while the houses burned.
The claims people are making about eucalyptus are increasingly being challenged and proven inaccurate. Eucalyptus forests are not monocultures that kill everything around them, but coexist with a great diversity of native plants, are an important supply of nectar for bees because they bloom year-round, are a preferred nesting site of hawks, and overwintering site for Monarch butterflies.
Along with eucalyptus, acacia and Monterey pine are also not considered native enough to be tolerated in the East Bay hills, though Monterey pine is obviously native to an area not far from here, where it is an endangered species. What's considered 'native' is a slippery concept in this ideology. Many proponents of these projects insist that it's all about native plant restoration, even though no replanting of any kind is planned, and FEMA does not fund 'native plant restoration' projects.
While proponents of these projects primarily argue that they are necessary for fire safety and will benefit an elusive 'native' landscape they imagine will return and turn back the ecological clock on the East Bay hills, there is clearly plenty of money to be made with millions of dollars of FEMA and other funding allocated to these projects. Many suspect that this is really about development. UC has mentioned plans to build housing on part of the land to be razed, and the proximity to Lawrence Berkeley Lab, which is planning expansion, is also suspicious.
Can a compromise or thinning plan be negotiated that excludes Monsanto, Dow and BASF?
In a previous lawsuit the Hills Conservation Network did negotiate a compromise for thinning in the park district. But 'thinning' is not meaningful legal terminology, as it's apparently wide open to interpretation. If you expect thinning to mean that a small percentage of the trees are removed, that is not what it means to the park district. In practice the polar opposite is true: the great majority of the trees in the areas to be 'thinned' remain on the chopping block. 'Thinning' is merely a euphemism for clearcutting while leaving a few trees standing for show.
So I oppose 'thinning' as an acceptable compromise.
Fundamentally, if the goal is fire safety, then residents in the hills need to create defensible space around their own homes, not chop down entire forests. It shouldn't be the prerogative of wealthy people to build their homes in forested areas, and then decide to kill all the trees and deny them to the rest of us. The bottom line is that if you're afraid of trees, don't live in a forest.
And if you're scared your house is going to catch fire, don't keep building and rebuilding wooden tinderboxes out of more dead trees! In my own FEMA comments I suggested that a better use of the money would be to make the homes that exist up there safer with earthen building techniques. As we saw during the recent fire that destroyed Harbin Hot Springs in Lake County, the cob walls of their temple, built by the brilliant natural builder SunRay Kelley, remained standing, ceramicized by the blaze, while all the wooden parts of the structure turned to dust. Even straw bale houses are dramatically less flammable than wooden houses.
As for negotiating that the agencies stop using pesticides, that would be a compromise on their part. But they insist that they must use chemicals to prevent regrowth of the trees they are removing. It's also important to understand that the agencies' pesticide use is not exclusive to these projects, but has been routine for UC and the park district for many years, and protested by many of us, long before these projects were planned. In fact, the EBRPD is proud of its 'Integrative Pest Management' policies that purport to have as their goal the reduction of pesticide use, but just as 'thinning' is not legally meaningful terminology, neither is 'reduced use'. What we found for example when we looked at the district's pesticide use reports that proudly declared reduction of use, it was a bait and switch where the use of only one pesticide was reduced, while the use of others was increased.
It seems that fire officials are in your camp. How are you leveraging their expertise?
I wouldn't say fire officials are in our camp. Certainly the fire officials employed by the agencies involved are going along with the program. But when some of our allies have dropped by local firehouses and talked with rank and file firefighters, most had no idea these projects are even on the agenda, and were shocked at the safety implications.
On the other hand, David Maloney, a retired Oakland fire fighter, and former chief of fire prevention at the Oakland Army Base, has opposed targeting these trees since he was appointed to the 1991 Oakland-Berkeley Mayors' Task Force on Emergency Preparedness and Community Restoration. Maloney recently wrote a devastating analysis of how much farther than the 1991 fire we can expect the next fire in the hills to spread if these projects are allowed to move forward.
Tell us what Tilden Park in Berkeley will likely look like after the clear-cutting and chemicals have come and gone?
It's hard to predict what will happen a decade from now, when these projects are supposed to be completed. Proponents have all sorts of romantic ideas about what they think will happen, but we've seen too many unintended consequences knocking over ecological dominoes that I would presume to make such predictions.
Tilden is one of the sites that is to be drastically 'thinned'. The 'wildfire hazard reduction' EIR on the EBRPD site has maps and lays out the plans for each site. I recommend taking a walk to the sites while the trees are still there and getting a sense yourself of what will be lost.
My primary concern is the life that's there right now, that is being threatened with slaughter, and that's not just the trees, but the soil and fungi, the insects, birds and other critters that are connected to the trees in complex relationships. Whatever may come to live there when these projects are finished, it will be in the poisoned remains of the forest and ecosystem that is there now.
While the FEMA projects are supposed to last 10 years, pesticide use wasn't ushered in with FEMA, and there is no guarantee that the longstanding policy of pesticide use will ever stop there, unless people stand up to the park district and put a stop to its misguided fight against nature.
How can you improve your PR?
We're a grassroots coalition, and we're all doing our part to get the word out to the best of our ability and with the resources available to us.
There are diverse approaches taken by different participants in the coalition, highlighting different aspects of the projects, and using different venues to get it across. Some of our allies have websites, some are on social media, others distribute flyers, some write articles, letters, petitions, others document what's happening in photographs and video. Save the East Bay Hills has even been putting large ads in various major newspapers, and has compiled resources and contact information of officials to encourage others to write. And all of us engage with our communities.
But we can always use more help. If you don't want to see half a million healthy trees destroyed in the East Bay hills, please get in touch and get involved.
* * * * * * *
Bio: Isis Feral -
Isis is an organizer with the CoalitiontoDefendEastBayForests, and a longtime environmentalist, labor and disability rights activist in Oakland.
For more details, visit these websites -
EastBayPesticideAlert.org/wpad.html
TreeSpiritProject.com/sfbayclearcut
Get in touch, and get involved -
Coalition to Defend East Bay Forests:
Contact: defendeastbayforests at riseup.net
Alerts: lists.riseup.net/www/info/eastbayforests-info
Info: facebook.com/CoalitiontoDefendEastBayForests
The 6/29 Protest Press Release is attached at the end of this post (pdf).