"Earth, Spirit, Self!" – Interview Hannah Apricot Eckberg, Co-owner/Publisher/Editor, Permaculture Magazine, North America by Willi Paul, Planetshifter.com Magazine
Submitted by Willi Paul on Sun, 06/19/2016 - 14:14
Axis:Image: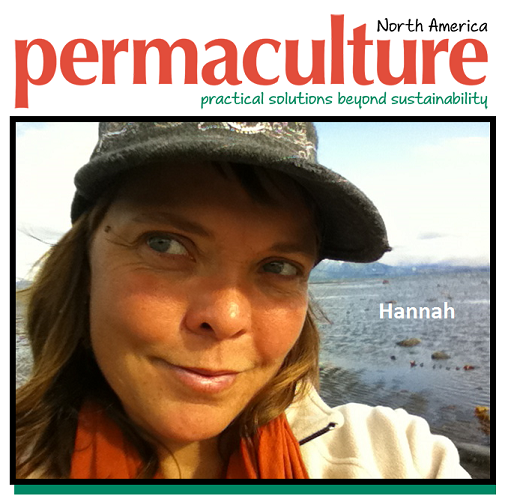 "Earth, Spirit, Self!" – Interview Hannah Apricot Eckberg, Co-owner/Publisher/Editor, Permaculture Magazine, North America by Willi Paul, Planetshifter.com Magazine
FYI – Please also enjoy Hannah's Interview with Willi Paul in Permaculture Magazine NA.
* * * * * * *
Interview with Hannah by Willi
The integration of spirituality has been a contagious issue for the permaculture movement since the early days. Many infuse the specter of religion in this debate while others label spiritual permies as "purple" and agricultural permies as "brown." What do you think?
Everyone's spiritual path is different. Those involved with organized religion follow a more dogmatic path, but still individualized. To me, it is the biggest unknown and biggest irony that so many wars are waged on something that each person must find on their own.
For me, the Earth is my church, and what I pray to. It is my source of inspiration, drive, and motivation for the work I do. When I walk at the beach or under the old growth, I am in my cathedral, connecting with the Divine Spirit.
I think the founders of permaculture felt similar to this, and that there is much room for connecting with Divine Spirit when we are in our gardens, or applying the Permaculture Ethics to every aspect of our life. If people brought more spiritual connection to their work, whatever it may be, then there would be more of a feeling of connectedness with fellow humans, and therefore less need to label each other, purple, brown or any other label, except co-inhabitator of Planet Earth.
But, like spirituality, permaculture is a personal path, and if some people just can't handle bringing a sense of spirt to their agricultural practice, then they shouldn't care if others decide to. Permaculture is also based on indigenous ways, on ways that were all about connecting to the spirit of the earth and its inhabitants. We have a lot to learn from these practices.
Once when I was a guest teacher at a Permaculture Design Course, I had a Freudian Slip, and thanked the previous speaker for his talk on "Spermaculture," instead of Spiritual Permaculture. Maybe it is time for a new, deeper level of connection to Earth, Spirit, and Self that permaculture can help us discover, whatever we might call it.
If permaculture is "design with Nature," is the use of heavy earth moving equipment still "permaculture" or typical landscape construction?
Permaculture is about working with nature, and mimicking it, yet still using appropriate technology when it proves the best tool. Nature tears at hillsides and creek banks in radical storms to change things up. Creating dams for water storage through ponds and swales is a key aspect to permaculture. Tractors make this work much easier and efficient. It all depends on how it is done to say if it is a permaculture style, or typical construction.
People can always take it to the next level, and bring a spiritual practice to their Earth-Works construction: ask the land for permission to help evolve it with machinery, ask what the land wants done, and give "Thanks" to it afterwards. Sing healing songs while on the dozer…. I doubt many people do this, but everyone could!
Obviously Permaculture Magazine NA is a for-profit enterprise. Many see capitalism as the problem; they ask if permaculture can use the capitalist system to change it? Your view?
We went back and forth for a while if Permaculture Magazine, North America should be a non-profit or for-profit, or some kind of a co-op. We decided for various reasons to be a for-profit and B-corp business, following a triple-bottom line (or even quadruple, including spiritual thanks to it). When we will actually see a profit is yet to be determined. That is more about jumping into a start-up because the message needs to get out there, not because we had the funding to get things rolling in a comfortable manner. We are definitely mission-driven rather than profit-driven, and hope every day that it will work out to be financially sustainable.
I believe business as usual is what has landed the world in the environmental, social, and economical catastrophes it faces. However, the Permaculture Principle of "the problem is the solution" really fits in here. Part of why we went for-profit is to help set example how businesses can make a real positive impact, and rather than relying on donations, that we can create abundance to share with other efforts - that is the plan.
Our only real chance of getting regenerative practices adopted by the main-stream, and by corporations, is to show that profit can be generated through restorative practices rather than just extractive practices. We need as many jobs and businesses as possible healing the planet, rather than just taking from it.
The Blue-Green Economy idea of creating Living Jobs on a Living Planet is one key to our survival and opportunity to thrive in the future. At Permaculture Magazine, North America, we plan to cover concepts like this in the magazine, and always offer example of companies making a difference by doing right by the planet. As consumers, we have great power to support these companies. All our advertisers are eco-conscience companies, many are B-corps, and I hope people will choose to support them rather than more destructive competitors.
How will Permaculture Magazine NA practice the permaculture "share the surplus" ethic, if at all?
We have already done much to work with companies that couldn't afford full price advertising, but have products and messages that were important to share, and so we work on an individual basis when we needed to create a win-win for all.
Once we generate an economic surplus, we have many permaculture efforts we would like to support, like scholarship opportunities or business development services to help "Permi-purners" succeed in their businesses. We will be adding a part to our website soon to make it easy for people to donate a subscription to a library, school, or low-income family to share the abundance and knowledge. We hope to offer articles in Spanish soon on our website for free as a means to educate the Spanish speaking members of North America. There are so many ways we want to give back and share, it will be fun once we get financially sustainable so we can do so.
I like to define the 3rd Ethic as "Keep your fair share, and then celebrate and share the abundance that comes from using permaculture methods." Reverence and appreciation for surplus makes it all that more meaningful to share!
Tell us what you can about the business model there? What is your relationship with Maddy Harland at Permaculture Magazine (UK)?
We are the first off-shoot of the 24-year-old Permaculture magazine out of the UK. The founders, Maddy and Tim, feel like parents to me in this huge undertaking, and the magazine like my new baby: taking all my time, energy and resources to make it happen.
We are sort of a pseudo-franchise. We use their marks (logo, name, style) and took over their North American distribution of over 900 stores. For their guidance and sharing of 24 years of knowledge, and the name and reputation as a high-quality, top-notch publication, we give them a set percentage off the top of our income. It keeps things simple, and as a motivation for all of us to create the best information-sharing product we can.
I want to be as successful as possible with our process so that other regions can easily follow. I'd love to see a Central/South American Permaculture Magazine, then one for Africa, the Middle East, etc. While many aspects of permaculture are universal, more local knowledge and companies advertising and course listings make it a stronger resource for the efforts in each region.
What are the three most challenging tasks at Permaculture Magazine as you ramp-up?
Three biggest challenges that come to my mind right now:
1) Time. It is essentially just two of us doing the full-time job of several people. If days were 48 hours instead, I could maybe keep up with all I have to do.
2) Funding. We started with a small family loan to cover the costs of our first printing. But if we had more money to hire people, for more promotional efforts, and survival money for ourselves, it would take off a lot of pressure.
3) Trying to choose which amazing articles to fit into each issue. Although it is about 88 pages, there is never enough room to share all we want to. I am thankful we have an active website to share many more articles on, and viewable for free.
How is medical marijuana a business and how is it medicine? What are the conflicts?
I have been a cannabis advocate for over 20 years! It breaks my heart now, as it becomes more legal in this country, to see the environmental destruction that the large-scale grows are causing, from creeks being drained and poisoned in the mountains, to almost 10% of California's electricity going to indoor grows. Dabbing and the catatonic state it causes will give cannabis a bad reputation. That also makes me sad, and I am not sure there is much medicinal properties left in this method of delivery.
It is a medicine in many ways, and like any medicine, needs to be taken responsibly, or can do some harm, although no were near the harm pharmaceuticals can do. For me, I use it as a spiritual practice to feel more connected to the Divine, to rise me out of depression, and to ease bodily pains. I am so glad CBDs and other components are getting attention, besides just the "high" educing THC.
I am working on a project to educate growers how to integrate permaculture into their grow operations. That could really help keep cannabis as a good thing.
Are you competing with Permies.com?
There is so much permaculture knowledge to share, that we seek to work with others, rather than compete. We are all filing different niches, like a food forest. We do cross-promotion with permies.com, Permaculture Design Magazine (formally The Permaculture Activist) and other efforts to offer our readers as diverse and educational experience as possible.
How will you get ad money from the cash poor, self-advertisers at the urban and regional Permaculture PDC Schools?!
We offer discounted ad rates for non-profits and educational efforts, as well as free PDCs listings. If there are efforts who still can't afford our low rates, we will do what we can to work with them to promote their efforts on a case-by-case bases. As the larger companies with big budgets support us, the more we can work with those who have smaller budgets.
Describe the new, "permaculture-engineered world" as you envision it in 2040?
By 2040, people around the world will embrace the 3 ethics of permaculture as a daily part of life. I describe them as:
"Care for the Planet, its Inhabitants, and take only what you need and celebrate and share the rest."
By then we will have included a 4th ethic about spiritual reverence for the earth and all who call it home. These ethics alone will help evolve societies into a better place for all.
Life will be based on regenerating and healing, rather than extraction and the endless quest for money. As permaculture principles are applied to all aspects of life, not just in the garden, things will change in a rapid and inclusive manner. We will have used carbon farming and other methods to balance the climate, and switched away from fossil fuels to sustainable methods for what energy needs we haven't eliminated. Local based ways of living will replace the global domination attitude plaguing the world today.
Our spiritual connection to each other and the planet will help create a "Heaven on Earth," and permaculture will help get us there.
* * * * * * *
Hannah's Bio –
Hannah grew up on a rural, coastal ranch in Southern California where she developed a deep connection to nature and growing food. At the age of 19 she became President of Get Oil Out, recognized as America's first grassroots environmental organization. During her time at UC Santa Barbara, she started an organization to educate about the environmental benefits of Industrial Hemp. She has worked in massage therapy, property management, event organizing, media production, and environmental journalism.
Since she was a teenager, Permaculture has been a huge influence in her life. She is now co-owner/publisher/editor of Permaculture mag, North America.
Contacts –
Hannah Apricot Eckberg
Permaculture Magazine NA
Hannah at PermacultureMag.org
808-226-7003
Willi Paul
New Mythologist & Transition Entrepreneur
PlanetShifter.com Media | Academia.edu Portfolio
@planetshifter @openmythsource @PermacultureXch
willipaul1 at gmail.com