"Share. Build. Transform!" - Interview with Anya Dobrowolski, Co-Founder: The ToolBox Project, Eugene, OR. By Willi Paul, Planetshifter.com
Submitted by Willi Paul on Wed, 05/25/2016 - 08:30
Axis:Image: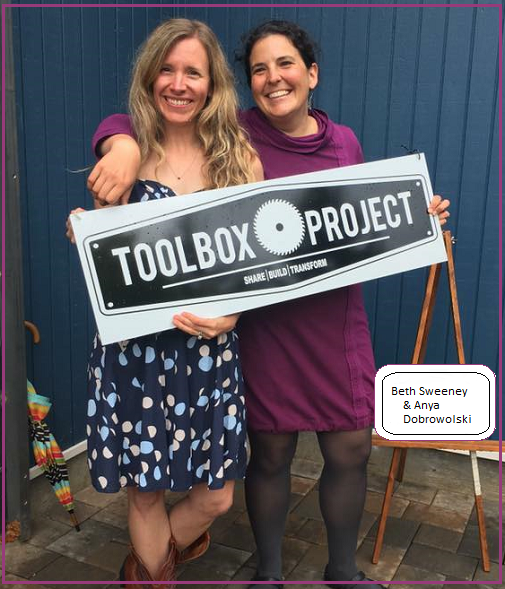 "Share. Build. Transform!" - Interview with Anya Dobrowolski, Co-Founder: The ToolBox Project, Eugene, OR. By Willi Paul, Planetshifter.com
The ToolBox Project serves the Eugene-Springfield metro area by providing members with low-cost access to building repair and garden tools to transform their homes, businesses and neighborhoods. Our goal is to help individuals, families and neighborhoods thrive by creating a space where we can all share, build and grow together.
* * * * * * *
Interview with Anya by Willi -
What values are built into the project?
The ToolBox Project is built around community sharing, self-sufficiency, interdependence and community resilience, increasing access to quality housing, and breaking down barriers to harnessing creative energy. Another great side-effect is helping folks to live more lightly on the earth. And what keeps me going in this project is really providing an opportunity for our community, with all its diverse interests and opinions, to come together and celebrate a social innovation that has something for everyone.
How did you approach the design of the online inventory part of the offering?
Since we are an all-volunteer organization, we need software that is user-friendly and that we didn't have to build out. Luckily, since there's a national network of tool libraries, there were already a few options to choose from. In the end, we decided to go with MyTurn, which is a B Corp that has developed a library database software that integrates our membership with our inventory, making our job really easy.
Another important feature is that all of our data is stored on the Cloud, so we can access it from any mobile device or computer, as long as we have internet access. MyTurn offers a sliding scale cost to use their software, which is a great help to start-ups like us, and their customer service is amazing. They are constantly updating the software in response to requests from tool librarians.
Where would you like to see the ToolBox Project in 5 years?
I'd love to see us able to offer a wide range of programs including tool use workshops, fixit clinics, workforce training programs and a program to help neighbors who need a helping hand for home and garden projects. Baltimore's Station North Tool Library is a great example of where I could see us going in terms of programming. I can also imagine have one or two more branches built out in Eugene and Springfield and maybe even a workshop space.
Are you folks networked with the other Eugene area tool libraries?
Right now, there aren't any other formal tool lending libraries in the Eugene area, although many informal shares exist among neighbors. We are looking for opportunities to network with them.
We are also starting to build connections with our local makerspaces, including the Eugene Public Library's new makerspace.
One resource that has been instrumental in getting the ToolBox Project started has been the national network of tool librarians in the National Tool Library Google Group. This online forum is highly active, easily searchable, and, since it is all librarians participating, there is a free flow of great ideas. It's an amazing community of sharers that anyone considering opening a lending library (tool or otherwise) should tap.
Who are your partners?
We work with a variety of partners in the Eugene-Springfield metro area. For cross-promotion and outreach, we work closely with our neighborhood association (Friendly Area Neighbors), Habitat for Humanity ReStore, BRING Recycling, CodeChops, a local co-working business, and other local tech and maker organizations. We hope to work with these partners in the coming years to expand our programming to include collaborative efforts for workshops, repair cafes and other opportunities to teach skills that enhance self-sufficiency and community resilience. NEDCO, a local economic development non-profit, served as our fiscal sponsor while were preparing to our 501(c)3 status application, which was a critical step in the start-up process, as it allowed us to receive donations before we filed for our non-profit status.
And support from City of Eugene and Lane County grant funds made this dream a reality. We wouldn't be where we are now without those agencies recognizing a great vision and a team with the chops to make this project a success.
Is the Toolbox a working example of sustainability, permaculture or Transition?
Yes, we are definitely inspired by sustainability concepts, especially increasing social equity. I've heard folks call us an example of social permaculture, but I'm not totally sure what that means.
Tell us about the liability issue when using your tools?
Whenever someone uses tools, there is an inherent risk they are taking and we ask our members to take responsibility for their own safety. Members sign a liability waiver and our tool use policy states that they should not use a tool if they do not know how to safely use it. Likewise, if a tool breaks while they are using it, we ask them to stop using the tool and inform us immediately. We also hold a liability insurance policy that covers our tools and members and volunteers using our tools. Our policy does not extend anyone who hasn't signed a liability waiver and so we require anyone who uses our tools, even just a rake or screwdriver, to sign a waiver.
How are you integrated in your neighborhood?
For starters, we're an all-volunteer organization and many of our volunteers live within a one-mile radius of the library.
We chose to open our first branch in the Friendly Street neighborhood because we it is one of the most well-established middle- to lower income neighborhoods in Eugene, with a really great vibe for sharing and trust already established. Once we'd committed to the neighborhood, we had to find a place to actually share the tools, which was a challenge since there wasn't really much underutilized interior space to speak of.
When we met the Friendly Street Church of God's pastor he said they had exterior space we could use, which meant we needed to literally build our library from the ground up, which has been an excellent opportunity for us to give something back to the neighborhood. We took a site that had been covered in invasive plants and turned it into beautiful building with lovely gardens for our neighbors to enjoy.
Who is your competition?
We don't see the ToolBox Project as competing with anyone. Partially because are a non-profit but also because we are trying to increase access not take away market share. Another way of putting it is that "we are making the pie bigger, not taking someone else's piece."
* * * * * * *
Anya Dobrowolski's Bio –
Anya is a co-founder, co-director, and board president of Eugene Oregon's tool lending library, The ToolBox Project. Her professional background emphasizes community planning and park system design, non-profit strategic planning and management, and community engagement and public processes. She is working as an independent consultant currently developing an online Sustainable Consumption Toolkit for the Urban Sustainability Director's Network. Previously, she worked as a project manager with University of Oregon's Community Planning Workshop and served as Assistant Director of the Oregon Leadership in Sustainability Graduate Certificate Program. Anya holds a master's degree in landscape architecture from the University of Oregon and a bachelor's degree in music education from George Mason University.
Willi's Bio –
Willi is integrating Permaculture, Transition, and Nature with New Mythology with Planetshifter.com and friends.
Connections -
The ToolBox Project
2290 Friendly Street (back side of the church on Adams Street)
Eugene, OR 97405 USA
eugenetoolbox at gmail.com
Willi Paul
New Mythologist & Transition Entrepreneur
PlanetShifter.com | Academia.edu Portfolio
@planetshifter @openmythsource @PermacultureXch
willipaul1 at gmail.com