"Click of an Eye" – New eRituals and their Symbols for the Permaculture and Transition Movement Toolkit. Discussion Questions. By Willi Paul, Mythologist, Planetshifter.com
Submitted by Willi Paul on Wed, 04/20/2016 - 15:47
Axis:Image: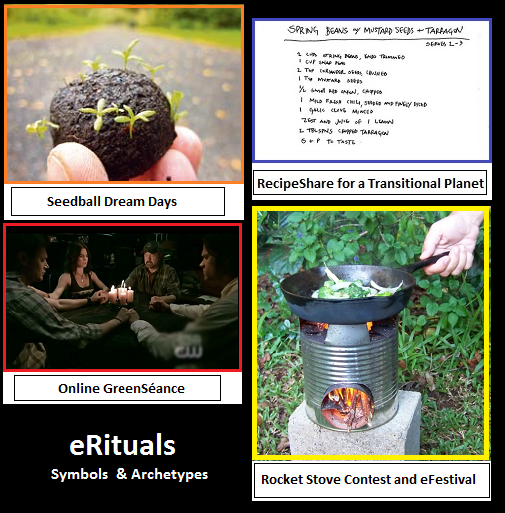 "Click of an Eye" – New eRituals and their Symbols for the Permaculture and Transition Movement Toolkit. Discussion Questions. By Willi Paul, Mythologist, Planetshifter.com
Tradition vs eRitual?
A tradition is a belief or behavior passed down within a group or society with symbolic meaning or special significance with origins in the past. A number of factors can exacerbate the loss of tradition, including industrialization, globalization, and the assimilation or marginalization of specific cultural groups. We learn to create and share customs and traditions from our family and key institutions. But are these traditions still healthy for our communities?
Can we learn to develop and practice new traditions in the Chaos Era?
'A ritual is a stereotyped sequence of activities involving gestures, words, and objects, performed in a sequestered place, and designed to influence (unusual) entities or forces on behalf of the actors' goals and interests.' Rituals may be prescribed by the traditions of a community…. Rituals are characterized by traditionalism, sacral symbolism and performance and are a feature of almost all known human societies, past or present.'
The eRitual extends the traditional definition of ritual (above) with a spiritual, computer-mediated event comprised of two or more people connected synchronously by the Internet. Participants can share deep values, and create new relationships from long distance.
* * * * * * * *
Building new eRituals -
• Who is leading the event?
• How long is the eRitual?
• When does it take place?
• What are the words?
• What the key symbols and supporting archetypes?
• What values comprise the foundation for the event?
• Is it integrated with other values, ethics, events, practices?
• What are the sounds and songs?
• What materials / space / tools / security are required?
Adapted from - Testing the ritual waters -
* * * * * * *
Dominant spiritual drivers to create new eRituals for the Permaculture and Transition Movements -
•Nature protection
• Environmental justice
• Resilience
• Community Care, Community Hero
• Sharing
• DIY
• Localization
• Cooperation
• Re-use, Recycle, Reduce
• Spiritual - not religious
* * * * * * *
10 New eRituals and their Symbols for the Permaculture and Transition Movement Toolkit – Consider the following new eRituals and ask yourself if you could facilitate any of them:
Rocket Stove Contest and eFestival – 24 hr.
Symbols – Rocket Stove
Seedball Dream Days– Recipes and Field Tests - 2 days
Symbol – Seedball
Online GreenSéance – 45 min.
Symbol – screen capture of participants with their candle
Quaker LightTime – 4 minute silent group meditation
Symbol – screen shots of meditative folks
RecipeShare for a Transitional Planet – 2 hrs.
Symbols – full salad bowl, uploaded recipes (pdf)
3 Million Hugs – Massive synchronous global eHug fest for 120 sec
Symbols – web site of each participant hugging themselves
New Myth Nights – Group Myth Writing with Neighborhood Mythology Program 3 hr.
Symbols – lightning, kids space rocket, compost
Resilience Poetry eSlam – 2 hr.
Symbols – screen shots of poetry book cover and participant reading live
SeedFest @ Online Garden – 2 hr.
Symbols – acorns, Indian corn, green beans
Nature Sounds SwapFestival – 4 hrs.
Symbols – a bumble bee buzz, cicadas call, splashing of the spawning salmon
* * * * * * *
Discussion Questions:
Do violent video games support positive, spiritual eRituals?
Do eRituals have the same impact as face-to-face rituals? How?
What are some of the opportunities and constraints with eRituals?
Do rituals have a negative connotation for some people? Anyone you know?
Is eRitual language dependent? Can images or sounds replace talk at the event?
Can you think of eRituals as non-religious events?
Can eRituals produce new archetypes? How?
* * * * * * *