"DROUGHTaction"- A Global Call for Community Solutions: Submissions > Webinars > Actions. 8/14 – 9/23/15. Coordinated by Bonnie Bright, Depth Psychology Alliance and Willi Paul, Planetshifter.com Media
Submitted by Willi Paul on Sat, 08/08/2015 - 16:21
Axis:Image: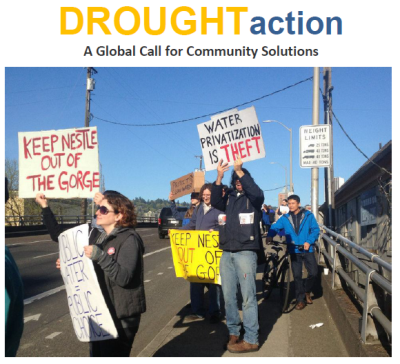 DROUGHTaction - A free online conference exploring the Drought
Submissions > Webinars > Actions.
8/14 – 9/23/15.
POSSIBLE SUBMISSION TOPICS:
dreams, sustainability, fracking, oil / gas industry, resiliency, public health, local economies, alchemy, archetypes, new stories / mythology, fear, permaculture, transition
SUBMISSION INFO:
Submissions end Sept 6
Call for Essays and Art Work, participation instruction, schedule
Four General Submission Categories: Science, Business, Politics and Spirit
Sept 6
Selected entries are uploaded on site for review
Sept 7
Webinar leaders, topics and schedule announced.
Register Now
Sept 22
NEWLY ADDED! Join us for our DroughtAction Panel:
• Linda Buzzell, ecopsychologist and co-editor of "Ecotherapy: Healing with Nature in Mind,"
and blogger for Huffington Post
• Craig Chalquist, depth psychologist and co-editory of "Ecotherapy'--
and pioneer of "terra psychology"--the psychology of place
• Jeffrey Kiehl, Jungian analyst and climate scientist at NCAR for thirty years
• Bonnie Bright, depth psychologist and founder of Depth Psychology Alliance?
• Willi Paul, mythologist and transition consultant
The panel discussion will by followed by live community-building & solution-focused dialogue about drought, plus short commentary from some of those participants who have contributed art, poetry, interviews, or other works for the gallery.
The event will be video-enabled so we can talk face to face, so come prepared to turn on your camera if you are willing--though you don't have to use video in order to attend, of course!
Sept 28
All data archived including media, webinar audio, final thoughts from Directors
COORDINATORS:
Willi Paul, Publisher / Transition Consultant, Planetshifter.com Media
Bonnie Bright, Ph.D., Founder/Director, Depth Psychology Alliance
Executive Editor, Depth Insights scholarly e-zine