Transition Tales from the 2012 Reskilling & Sharing Expo. Sponsor: Transition Palo Alto. Video: Willi Paul
Submitted by Willi Paul on Sun, 08/12/2012 - 18:20
Axis:Image: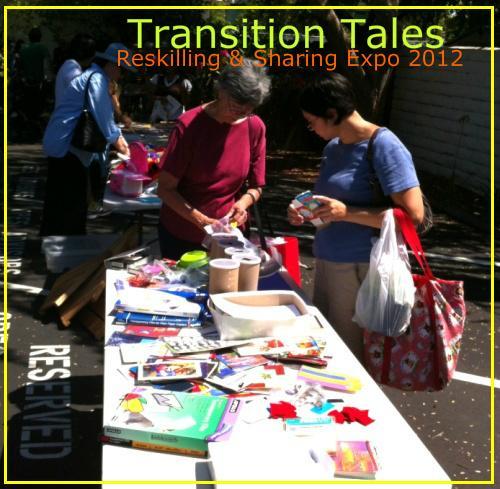 Transition Tales from the Reskilling & Sharing Expo. Video
Video: http://youtu.be/1tJrDiqhDu8
Post: http://planetshifter.com/node/2043
Sponsored by Transition Palo Alto and Common Ground Organic Garden Supply & Education Center
Sunday, August 12, 11am – 12:30 pm @ 559 College Avenue, Palo Alto
Neighbors Sharing Food, Crafts, Skills, and Goods
Transition Tales sponsored by Transition Palo Alto.
Interviews and Produced by Willi Paul, Mythologist
Planetshifter.com Magazine & planetshifter.com
From the event description:
Hop on your bikes with your friends and family for a multiple skill and goods sharing event. Join us to share your garden and kitchen bounty, your extra arts and crafts supplies, beloved books, old clothing, and children's toys. Bring what you have to share; take home something you don't. You'll also learn to make homemade musical instruments and get a bike tune-up.
We'll have demos on kitchen skills and craft techniques on the half-hour, too. Be sure to bring a bag to take home the bounty!