Crowdfunding for Permaculture Now! Article / Interview with Christian Shearer of WeTheTrees.com by Willi Paul, permaculture exchange
Submitted by Willi Paul on Thu, 07/19/2012 - 09:46
Axis:Image: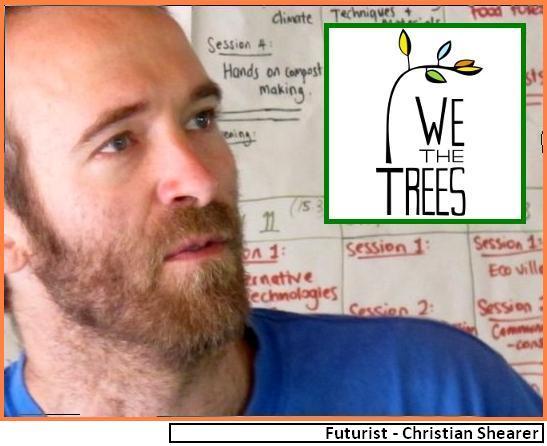 Crowdfunding for Permaculture Now! Article / Interview with Christian Shearer of WeTheTrees.com by Willi Paul, permaculture exchange
"The collaborative effort that is WeTheTrees came about when a group of active permaculturalists realized that the permaculture community could really use a unique way to raise money. Basically every permaculture person we knew had a few projects on the back burner just waiting for the right time to turn up the heat, including ourselves! Our team of permaculture designers are the small set of entrepreneurs that dreamed, visioned, designed, launched, and are now using the WeTheTrees platform. Each of them is trained in permaculture, and took this project on as a collaborative effort to give back to the permaculture community. The entire process incorporated the permaculture principles and the platform currently serves multiple functions for each of them. The project was developed as an eco-social business, keeping the triple bottom line in mind. Each member of the team has committed to using his share of profits exclusively for permaculture related activities."
* * * * * * *
Interview with Christian by Willi (Article by Christian follows) -
A tool is just a tool without hands and hearts to work it, Christian. How will you get out of the permaculture clique and excite members in the broader community?
WeTheTrees is a crowdfunding platform that centers around the Permaculture community, because we feel most aligned with the strong ethics and intention found therein. The platform is not, however, limited to only permaculture certified campaigns. WeTheTrees is open to campaigns that fall into any sustainability, environmental, social, or educational category, as long as they meet the ethics of permaculture.
The key is to work the edges. It is much more effective to work on something at the edge of your system and help it to be symbiotic with your system than to wander off to another area completely. There is an edge relationship between the permaculture community and related fields (like conservation, organic agriculture, social change movements, etc.), where there are actually overlapping elements. Our platform has an added function of connecting, exposing and educating those that may be positioned on the edge of permaculture. It may be through their use of our platform that they first recognize the deep solid base and active community of permaculture.
How does WeTheTrees compare to Kindista (https://kindista.org/#/) and permaculture exchange (http://permaculturexchange.com/)?
WeTheTrees joins Kindista and Permaculture Exchange as some of the newest and cutting edge developments in the online world of permaculture. Like both of these websites, WeTheTrees is aiming to offer a platform that can serve as a useful tool to more effectively and efficiently connect people in the permaculture community and beyond.
WeTheTrees is unique in terms of the services that are offered. WeTheTrees is the only crowdfunding site focused on permaculture related projects, giving our users the opportunity to put their ideas out there to their community, their family and their contacts to see if there is support.
I would imagine that all three sites could be used for different purposes quite effectively. Appropriate technology for the desired outcome.
What are the top issues facing permaculture today? How does WeTheTrees address them?
I would say that the slow pace of change is probably one of the biggest issues facing permaculture and the world for that matter. Many of us believe that the clock is ticking regarding the ecological impacts of mankind. If we can't start having more of a positive impact on this planet at an increasing rate, then the fear is that the CO2 ppm are going to go irreversibly high, or the web of life is going to go irreversibly thin, or the consumptive needs of an exponentially growing population will be out of reach. WeTheTrees is one small player in helping the permaculture community move toward their goals more effectively and efficiently.
We KNOW that there is enough desire in the community. We KNOW that there is enough information. We KNOW that there is enough imagination and design skills. And, we KNOW that there are enough resources available to implement those designs. The purpose of WeTheTrees is to help those with the desire and the designs connect with those with the resources, to help make their plans a reality, now.
This process serves everyone involved. The campaign creator has a design to help meet her needs and her community's needs, and the contributor has received the gift of giving, and feels connected in a meaningful way to the campaigns contributed to. And the outcome of the project itself should be positive for the planet as a whole.
Are you promoting new global economy with WeTheTrees? Are your values the same as those in traditional permaculture?
WeTheTrees is looking to connect those with the desire and the designs to those with the resources. Sometimes that means that these two groups will be on opposite sides of the planet, and sometimes they will be on opposite sides of the dinner table. In either case, needs are being met for both parties, and their lives are enriched. And of course, when the project does what it set out to do, then our planet is enriched as well.
WeTheTrees values an educated and engaged community, healthy diverse ecosystems and individuals that are physically, mentally, emotionally and spiritually enriched. The company that is WeTheTrees, does business in a different way, encouraging this for our team, and we intend that the platform be used in a way that promotes these values to the global community. In that way we are fully in-line with the permaculture values and ethics that I have come to live by.
There are many folks without access to the Internet and your site? How will you pitch Crowdfunding to them?
The first ever campaign on WeTheTrees was a campaign to gift a Sun Oven to a permaculture project in Northern Thailand. I posted this campaign and feel that through this platform the project in need can be connected with contributors who are excited to give. We encourage "gifting" campaigns, where the person who is raising the funds is doing so with the expressed intention of purchasing goods or services for another person or group. Just this morning I was contacted by another man who is planning to post a campaign to raise money for a school in Nepal:
The main goals of the project are:
1. To have access to healthy, nutritious, organic food
2. To have a self-dependent and sustainable organic school garden
3. To include practical learning into the school curriculum
All together we have made a school garden design and we are now constructing a demonstration area. For the next phases and coming activities we need your financial support.
- Trees, plants, bamboo, compost and other garden materials.
For this we need $ 300
- Teaching material for the kids to learn about organic gardening and permaculture.
For this we need $ 500
In total we need $800 dollars. With that money we can do a lot!
If we raise more than this we will invest in trees and plants for our nursery that we will donate to the community surrounding the school.
There are permaculture projects and permaculture people in (I assume) every country on the planet now. If every person utilizes the resources and tools available to them, incredible things can manifest with very little effort. WeTheTrees gives the permaculture community and beyond one more tool to make that possible.
Thanks for your time and your support Willi, and thanks for what you do on this little planet.
* * * * * * *
"A New Fundraising Tool for the Permaculture Community," Article by Christian Shearer -
We are excited to announce the official launch of WeTheTrees.com, a crowd funding platform aimed specifically at permaculture and the sustainability movement. This platform helps organizations and individuals around the globe gather the resources needed to meet their goals through a simple-to-use platform that allows them to easily and creatively raise funds.
The greatest limitation on many permaculture projects is access to enough capital to make their dreams a reality in a timely manner. And it is also true that there are a lot of people out there that love to give to meaningful projects and support efforts to make this world a better place. WeTheTrees was designed specifically to bridge the gap between idea / design and the resources needed to make it happen.
How does WeTheTrees work?
WeTheTrees works like this: you submit your campaign, set a fundraising goal and a deadline to reach this goal (maximum 90 days). Then you promote the campaign to your friends, family and networks, encouraging them to come check it out. People can opt to contribute to your campaign at any amount above $5.00 and receive rewards for their contribution! We work on an all-or-nothing system. If you reach your fundraising goal by your deadline, then the contributions are debited from the contributor's accounts on that date and deposited into your account (less fees). If you don't meet (or exceed) your goal, then no money ever is collected. Use the WeTheTrees platform to fund raise for projects big and small.
With a minimum campaign amount of only $100, WeTheTrees could be a valuable resource for fundraising at all levels - from the purchase of a scythe for harvesting wheat to the purchase of the wheat field itself!
To learn more about WeTheTrees visit the website. Be sure to visit the FAQ page, the strategy guide.
How is WeTheTrees helpful to the permaculture movement?
WeTheTrees provides a multifaceted tool to every permaculturalist, and can be used very creatively to not only raise funds for a project, but also to fund raise for a course, assess the market potential of different ideas, and even to pre-sell products that will be produced with aforementioned fund raised capital, allowing the farmer or eco-social entrepreneur to feel more secure in their undertaking. WeTheTrees can also function as an excellent way for a community to collect money for cooperative endeavors.
And furthermore, WeTheTrees allows a wonderful and meaningful way for anyone to be able to contribute to positive change on this planet. Just browsing through the site can be enjoyable, seeing all the interesting projects that other folks are raising money for, and when a person sees one that really excited them, it's just a click away to become a contributor.
A few examples of how the WeTheTrees platform could be a useful tool.
1. The Traditional Fundraiser - Lets say a family wants to install solar panels on their roof to supplement their electricity needs from a renewable source. This family (let's call them the Kimbles) could post a campaign on WeTheTrees to do just that. The Kimble family posts a campaign to raise $1800 for fifteen 100W solar panels. This will give them a big start on their grid-intertwined solar system. They set a goal for $1800 and a campaign length of 90 days. On WeTheTrees, all campaigns must offer rewards. Because the Kimbles assume that most of their contributors are going to be friends and family, they offer what they have in abundance. It does not actually need to be related to the solar panels (as it would be difficult to give away electricity as a reward).
Their rewards could look like this:
If you contribute $5 we will send you a personalized thank-you card.
If you contribute $10 we will give you a quart of our canned apple sauce.
If you contribute $25 you will receive an invite to our "Going Solar" installation party and bar-b-que.
If you contribute $100 you will receive the invitation as well as a set of our home made artisan bees-wax candles.
If you contribute $250 you get all of the above plus a handmade Shaker bench made by Mrs. Kimble in her wood shop.
2. Fundraise to take a course - Shu Mei has been wanting to take a PDC course for a long time, but felt that she could not because of the price of the course. Using WeTheTrees she was able to post a campaign to raise the funds to take the PDC course. She set her fundraising goal at $1200 ($980 for the course itself and $220 for travel and expenses). In her description of the campaign, she explains how the PDC course will support her in moving toward what she wants in her life, and true independence on her path. She promotes the campaign by sending it out to her family and friends, and is easily able to raise the money needed to make this inspirational course a reality for her. On WeTheTrees anyone can fundraise to take any course that is related to the environment, social change, or permaculture, and there is already a list of organizations and institutions that are encouraging their students to do just that. For rewards, she may offer to do permaculture designs for people contributing over a certain amount, or give an evening presentation about what she learned during the course.
3. Pre-selling products and gathering market potential on an idea - All campaigns posted on WeTheTrees must be finite and definable; they must be clearly stated and have a clear end. A person can fundraise for "the purchase of a cargo bicycle for delivery of fresh baked organic bread" but cannot fundraise "to start a bread business". In this case, Mary Breadmaker may post a campaign on WeTheTrees that invites anyone who feels moved to contribute toward the purchase of this bike, which she will then use in her bread making business to do home deliveries. "Fresh on your doorstep in time for breakfast!" She sets her fundraising goal at $2,500, sets her campaign length to 60 days, and offers rewards for the contribution.
If you contribute $5 toward this campaign, you receive a coupon for one loaf of her classic sourdough.
If you contribute $10 toward this campaign, you receive a coupon for any of her dessert breads.
If you contribute $25 toward this campaign, you receive a coupon for four loaves of your choice.
If you contribute $100 toward this campaign, you will receive 20 coupons and be given a special thanks in her newsletter.
Mary could post this campaign with complete uncertainty as to whether she will achieve her goals or not. She sends it out to all her contacts and invites them to check out the campaign and share it with their friends and neighbors. Because Mary lives in such a supportive community (and she makes such good bread), she exceeds her goal by $500 and is able to purchase additional equipment on top of the bike. She already has hundreds of loaves sold and is off and running. Had she failed to meet her goal, she receives nothing, and contributions are never debited. She would have learned about the market potential in her area, and that there isn't enough interest in her community for her bread at $5 a loaf, and saved the effort and heartbreak of starting up and failing.
4. Community cooperative action - The crowd funding tool offered by WeTheTrees is a perfect platform for building community cooperative projects and events. For example, the Clark St. Neighborhood Association has been discussing for some time the idea of putting in a playground on the empty lot on the corner. It seems that there is a fair amount of support, but it is tough to gauge whether the community will really pitch in when it comes time to pay for supplies. One of the board members of the neighborhood association volunteers to post a campaign up on WeTheTrees to raise the funds for this playground. The fundraiser is for $25,000, enough to build a wooden play castle with rope wall as slide, put up a set of swings, and to plant an edible forest garden that is child friendly (thornless blackberries, strawberries, kale snap peas, and dwarf apples, pears and plums.
The community has pledged the hard labor, all they need is to see the money and make it happen. So the campaign is launched with a $25,000 goal, and a sixty day campaign deadline to help everyone in the community realize this is happening, and it needs to happen now. Besides posting the news on their facebook page and writing a blog post about it, a couple of the young association members drop fliers off in every mailbox in the neighborhood letting people know about the fundraiser, and directing them to the proper URL.
The association sets rewards low, because the main reward is having a community playground in the neighborhood. $25 contribution gets you a thank you card. $100 donation gets you a Clark St. t-shirt, $250 donation gets you a special mention at the opening ceremonies of the park, and a $1000 donation gets you a brick engraved with your name (or words of your choosing) that will be laid on the path of the park.
If the community raises enough awareness and gets the word out, they should be able to raise enough for that playground, and if they don't raise enough, then they have ascertained that the community is not willing to give enough to make it happen. Maybe they can adjust their plan and help it meet the economic resources of their community.
What are the costs of using WeTheTrees?
It is totally free to post a campaign on WeTheTrees, and if you do not meet your goal, there are no fees at all. If the fundraising goal is met, the pledged contributions will be debited out of the contributors' accounts at the campaign deadline. You will receive all the money from the contributors, minus the fees of the payment processors (like Paypal and WePay) which are generally about 3-4% and a 5% WeTheTrees platform fee.
A New Model of Doing Business
WeTheTrees has been set up as an eco-social business, committed to transparency, equality and the ethics of permaculture. The company was founded and is currently run only by Permaculture Design Certified staff, and all individual earnings (to employees and managers) are committed to be used toward permaculture projects of their own. Up until the launch, almost all the work done to make WeTheTrees a reality was done as sweat equity, and the company was funded only by the members of the WeTheTrees team. A true team spirit and a desire to give something back to the permaculture community are at the heart of why WeTheTrees exists.
Open Source
WeTheTrees is running using open source software called Catarse, and then adapted and stylized to fit our unique needs. The development team at WeTheTrees feels passionately about open source movement, and is glad to be able to give back the improvements and upgrades made on this site.
The team at WeTheTrees hopes that this crowd funding platform is useful to you and your community. Please come check out the site, post a campaign for your next permaculture adventure, contribute to someone else's dream, and let others know that this resource is out there.
How can I help make WeTheTrees a success?
The platform just publicly launched on July 20th, 2012, so the greatest challenge at this point is just getting the word out. If you feel moved to help get the word out, please share this article with your friends, like us on facebook, and let you permaculture colleagues know it exists.
* * * * * * *
Christian's Bio –
Christian Shearer is a PRI certified Permaculture Design Course teacher and the founder of the Panya Project in Northern Thailand. He is a natural builder, a food forest enthusiast, a musician, an advisory board member to WeForest, a certified educator and has extensive knowledge of tropical permaculture systems. He has taught permaculture in Thailand, Malaysia, Taiwan and the United States and helped found Terra-Genesis International, an international permaculture design consultancy firm. Christian is excited to continue contributing to the Permaculture movement and to deepen his own understanding of how to make real lasting change on this planet..
Connections –
Christian Shearer
christianshearer1 @ gmail.com
Web: WeTheTrees.com
FB: WeTheTrees.com Facebook