Journey to Cascadia: Building a New Global Mythology. For 2012 Study of Myth Symposium Work Shop, Willi Paul, openmythsource.com
Submitted by Willi Paul on Sun, 07/15/2012 - 12:27
Axis:Image: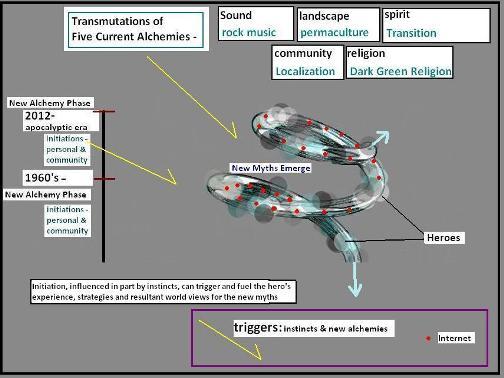 Journey to Cascadia: Building a New Global Mythology. For 2012 Study of Myth Symposium Work Shop, Willi Paul, openmythsource.com
View the complete, illustrated vision at openmythsource.com
"Rees' assertion is that we are trapped in a collective cultural mythology oriented around the idea of boundless economic growth, and that the powerful narrative of this mythology has behaviorally, institutionally, politically and socially disabled us from honestly confronting the foundations of global un-sustainability. Therefore, he argues, we only come up with diversionary, gimmicky, peripheral or subsidiary ways of dealing with the challenge – because our primary motivations are precisely wedded at a deeper level to a cultural mythology that itself is at odds with sustainability… when what we really need is a fundamental paradigm shift."