Pedestrian – Auto Safety Issues @ Fox Plaza Lane, City of Burlingame, CA. Willi Paul, PlanetShifter.com Magazine
Submitted by Willi Paul on Tue, 07/03/2012 - 10:24
Axis:Image: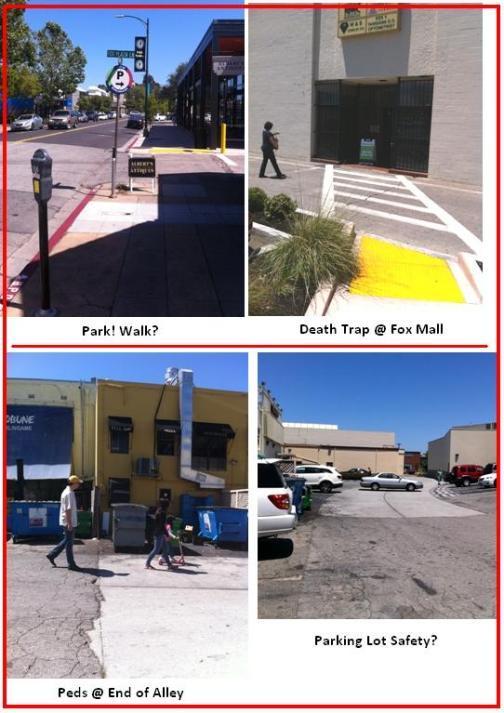 Pedestrian – Auto Safety Issues @ Fox Plaza Lane, City of Burlingame, CA. Willi Paul, PlanetShifter.com Magazine
Introduction:
"Pedestrian safety will also become a concern," wrote Dan Andersen of Burlingame back in a February 26, 2003 San Mateo Daily Journal Letter to the Editor, "Safeway vs. Safety." In 2012, Fox Plaza Lane's pedestrian traffic is severely unprotected.
Fox Plaza Lane, according to City Planning Department maps, is an historic, dead-end alley that services the rear of small shops, restaurants and Safeway in downtown Burlingame. Fox Plaza Lane extends only to the rear of 1447 Burlingame Av. There is no pedestrian walk-way from the rear entrance of Fox Mall Shopping Center to the corner of 1447 Burlingame Av.
In this alley the City of Burlingame continues its legacy of allowing unprotected street crossings and endangering its residents. As City officials have relayed in the past, if no one gets maimed or killed, they we won't fix it. See City of Burlingame, CA pedestrian cross walk threat dangerously too high and A safety flare from Burlingame, California.
Big Questions:
+ What are the traffic safety rules for cars, parking lots and people at Fox Plaza Lane?
+ What are the traffic design parameters associated with a "lane." How wide is it? What about pedestrian traffic / safety rules?
+ What traffic controls and legal issues are in play where the Lane dead-ends and the parking lot begins?
Clearly, Fox Plaza Lane must be viewed as an alley and is a dangerous place for bikers, strollers and walkers. The City of Burlingame Police Department is compiling an auto – pedestrian accident report for the Lane at the time of this post.
Assessment:
+ The "sidewalk" or alley path that starts at Primrose and continues down Fox Plaza Lane toward Safeway is in dire need of repainting
+ This short path is ~ 3 feet wide: an unsafe width for two people to share
+ This path abruptly ends at the corner of Fox Mall Shopping Center. Here pedestrians are unprotected for the rest of way to Walgreen's. The primary pedestrian path according to the Lowney Architects Pedestrian and Circulation Diagram was approved by the Planning Commission (Sheet A1.2).
+ There are no alley signs to slow autos at the rear entrance of Fox Mall Shopping Center
+ There are two signs on the exit doors inside a dark Fox Mall Shopping Center. But both signs are easily missed if the door(s) are propped open.
+ Pedestrians are walking down the middle of the Lane and dodging cars in the parking
+ There is a pedestrian path along side of Walgreen's that dumps into Burlingame but this dumpster strewn path does not mitigate the safety issues in the Lane
+ There are no warning signs to watch out for pedestrians anywhere in Lane
+ There is yellow handicap warning material on ground at the exit of the pedestrian walkway in the parking lot
+ There is no posted speed limit anywhere along Fox Plaza Lane
Solutions:
+ Turn the Lane into one way alley headed east to Primrose
+ Changes to existing alley path: 1. update to a two-person pedestrian standard and 2. Re- stripe it
+ Continue larger pedestrian path to end of Lane
+ Place standing warning sign at Mall entrance connector to slow drivers
+ Enforce and sign the alley for a maximum speed limit of 10 mph
+ Place yellow handicap warning material at the Mall entrance
Conclusion:
Fox Plaza Lane is a Dead Man's Land as the City Traffic Engineer continues to pander to Safeway investors and speeding cars with no regard for pedestrian safety. Sadly, the City entrance sign into the Lane from Primrose says it all: 'Come and Park here.'
But don't walk here.