AppleSeed Permaculture's New Land Managers Program. Interview with Dyami Nason-Regan and Ethan Roland by Willi Paul, Permaculture Exchange
Submitted by Willi Paul on Wed, 06/06/2012 - 10:25
Axis:Image: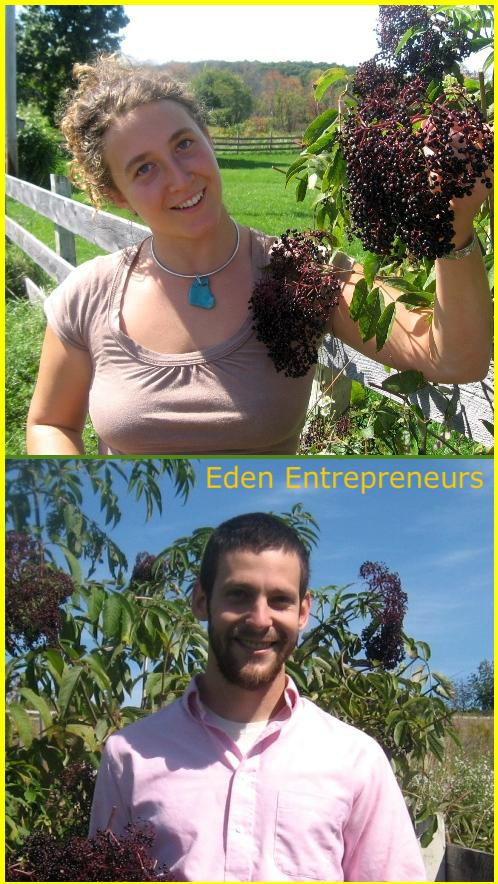 AppleSeed Permaculture's New Land Managers Program. Interview with Dyami Nason-Regan and Ethan Roland by Willi Paul, Permaculture Exchange
Are you interested in finding a piece of land to steward, manage, farm on and grow with for the next 1-10 years? Would you like to start an agricultural enterprise or educational farm without the challenges of purchasing land? Appleseed Permaculture is glad to announce our new project, AppleSeed Land Managers.
Essentially, we build symbiotic relationships that put people on the land and generate multiple forms of capital for everyone involved. Land managers will receive compensation for their services, and land owners will achieve returns on their investments in financial, material, living, social, or cultural forms of capital. We are building this match-making service to meet the parallel unmet needs we've encountered among our design clients, our students, and our colleagues in the permaculture and organic farming communities. We invite you to be among the first people who try a new approach to meeting property management and development needs by engaging in the AppleSeed Land Managers process.
* * * * * * *
Interview with Dyami and Ethan by Willi
You say that your AppleSeed Land Managers program is "Beyond Property Management." Explain?
Land Managers was born out of our observation of the social and cultural systems in which we live. We run a thriving permaculture design, consulting and install firm and find that many of our clients face the same challenge: They don't have enough time, energy or financial capital to manifest fully functioning permaculture systems. Our clients do often have living capital in the form of land but lack the intellectual, experiential and temporal capital necessary for its regeneration. At the same time, organic farmers, permaculture designers and eco-social entrepreneurs are struggling to get access to land to grow food, their own experience, and their businesses.
AppleSeed Land Managers is a perfect solution for both parties. It functionally interconnects land and people to offer opportunities for multi-capital exchange and development. Traditional property management is one-sided, and often focuses on fossil-fuel-consuming "aesthetics", or at best functional maintenance. Land Managers offers a completely different paradigm: Land owners and land managers collaborate with each other to regenerate their local ecosystems and communities.
AppleSeed Land Managers don't just "manage land". They build multiple forms of capital by creating right livelihoods based on integrated permaculture design strategies. For example, two positions we're currently looking to fill are a Farmer and Farm Educator at a private boys school. The Farmer will develop a diversified organic farm that provides 100% of the fruits, vegetables and nuts for the school and sell value-added niche crops to the local market. The Farm Educator will teach hundreds of students how to understand their ecosystem, integrate water and animals into the landscape and grow their own food. Both positions are full-time salaried positions with benefits. It's a win-win-win for the land managers, the school and the environment.
What lessons have you learned to date as you "match land owners with land managers?"
This is a brand new program so the learning has just begun. One thing that we're clear on is that we will only work with Land Managers and Land Owners who have committed to ongoing personal development and clear communication. We've also learned that although there are other programs working in the same realm as we are (Farm link, some land trusts, etc.), our interviews with potential land managers indicate they are not yet particularly enticing or effective.
Is this a capitalist program?
We envision a world of abundance, where earth-connected bioregional democracies empower all peoples to thrive and evolve to their fullest potential.
And, we recognize that our current oppressive financial-capital-based system makes this difficult to achieve.
We believe that we're in a time of rapid and radical change where resilient strategies are required to navigate the transitions – AppleSeed Land Managers is an excellent example of one such strategy.
It functions well in the current world by providing opportunities for:
• Entrepreneurial training
• Financial capital flows & right livelihood
• Productive use of un-used land
While simultaneously preparing both Land Managers and Land Owners for a world of abundance by:
• Developing thriving permaculture landscapes
• Re-skilling forgetful hands and re-membering ourselves as co-creative participants in the ecosystem
• Facilitating a transition to a multi-capital economy based on living capital
What alternative economic policies and programs do you partake in?
Through work with the Financial Permaculture Institute, AppleSeed Permaculture co-developed the 8 Forms of Capital to expand and transform the current economic paradigm towards permaculture. This lens supports us to understand our professional and personal interactions as exchanges not commonly valued though our current economic system. We're even pioneering non-financial-capital legal agreements with our clients using the model.
We are eco-social investors, investing financial, intellectual, experiential and temporal capital into viable enterprises around the world. Recent projects we've invested in include Sapsquatch Maple Syrup, Gaia University International, the Carbon Farming Course and the Apios Institute. We're also deeply supportive of our nascent local complementary currency, the Hudson Valley Current.
How is the AppleSeed Land Managers program an example of whole-systems thinking?
See our response to the first question.
Having worked in corp. sustainability, civil land engineering and other ecology-related endeavors myself, can you explain how you might use tools from these "precursor fields" with the advantages in regenerative design?
We build integrated project teams including firms from the professional design and corporate worlds. Our recent work with the Regenesis Group has helped us to understand the value of deep collaboration in quickly multiplying regenerative strategies. Rather than attempting to push forward as a lone wolf, we're getting much further by humbly co-learning with the excellent and open-minded folks in from many different professions.
What is working well at Gaia University these days? What could be improved?
Gaia University just hosted its first online orientation with participants from all over the world (including embattled places like Syria) bringing the brilliant integrative tool-box of Gaia University to folks who otherwise might not be able to attend. Gaia University is also launching an upgraded Permaculture Diploma program providing opportunities for right livelihood and ongoing education after the Permaculture Design Course.
Gaia University multiplies its impact with every new person that engages – What would improve Gaia U right now is more people committing to build their eco-social design capacities by signing up for one of the programs!
How would you explain "carbon farming" to a 7 year old?
Many of the things people do every day harm the environment. For example, driving cars or buying food from the grocery stores and turning on the lights in a house all release pollution into the sky. Carbon farming takes harmful pollution out of the air and puts it into the soil, where the plants can eat it and grow healthy delicious food for us to eat.
Please visit permaculture exchange and tell me what you see?
A great idea under development; excellent alignment with AppleSeed Land Managers. Can we open a Northeast USA mirror?
Do you think that ecosystems exist more in our minds than on our lands?
Are these two things separate?
What is sacred to you?
All the beautiful ones, and all the ugly ones, and all the bright-eyed ones, and all the exhausted ones, that sing their song as best they can in the middle of this crazy world. We bless them all as equally sacred, while grieving the misfortunes and atrocities that humans have chosen and humbly creating small offerings of great beauty as each sun rises and sets.
For those of us striving to visit, what characterizes Eden? Tell us about the symbols and mythology of your Eden?
Ripe persimmons and pawpaw ice cream. A swim in a stream-fed pond in June in the foothills of the mountains. The melody and harmony of our family singing to greet the day.
Our symbols are the sun, the moon, the rain, the seeds… Our Eden is not far from where we stand now. A mass shift in values and practices will allow for Eden to manifest right here on our earth.
Not long ago we traveled to Ireland, seeking our ancestral soil and the seeds that grew in it. Our ancestors, the best of them and the worst of them, the Jews and the Catholics, the Greeks and the Romanians and the English and the Belarussians, the musicians and the cigar-rollers and the rubber factory machinists and the pickle-making-grocery-store-owners and the lawyers and the fisherman, grew and loved and lived and died right through the thick brambly mess of the development of the so-called "western" so-called "culture" that even now paves over forests and exterminates whole languages and squashes the songs of indigenous peoples wherever they struggle to survive on the planet.
Our ancestors lived at the same time Dersu Uzala trapped sable over the Sihote-Alin, and at the same time Kristen Lavransdatter defied the laws of sin and sanctity in the name of love and truth, and at the same time hummingbird boy tried to sing the dismembered pieces of his lover's body back together, which also happened to be the same time a Warranowankong man carved a beautiful face into the trunk of a sycamore tree down the stream from our house, the legacy of which lives today in the Dutch name for the native offering, "Mombaccus". From these myth-strings, and 20,000 more, we weave our Eden.
* * * * * * *
Bios –
Dyami Nason-Regan is a co-owner and lead designer at AppleSeed Permaculture LLC, where she guides the master planning process for regenerative developments and edible landscapes in the Delaware, Hudson, and Housatonic river valleys. In the spring and fall Dyami manages all installation projects at AppleSeed, transforming degraded and underused lawns, farms, and forests into food-producing gardens of Eden. She holds an MS in Eco-Social Design from Gaia University, and a BS in nature-based mentoring from Empire State College. Her foundation as a permaculture designer developed through 7 years of nature awareness education in the lineage of Tom Brown Jr., Jon Young, and the global cultural mentoring community. She continues to support the work of Wild Earth and the Vermont Wilderness School, leading the teen outdoor immersion for the annual Art of Mentoring program in Vermont. At home, Dyami manages her family's small scale livestock and excels as a kitchen alchemist – boldly transforming the local, seasonal, and wild foods into delicious and holistic meals. She models earth-care through self-care, remaining well-rested, well-fed, and joyful through all of her work and professional achievements. Overall, Dyami is a passionate regenerative designer who supports the people around her to build deep relationships with their local communities and ecosystems.
Ethan Roland is an international expert on sustainable agriculture and permaculture design based in the Hudson River Valley. He studies and practices permaculture in all corners of the world, from the wild apple forests of Kazakhstan to the tropical monsoon ecosystems of Thailand. Ethan builds resilience for local and global communities through his design firm AppleSeed Permaculture LLC, organizes the Carbon Farming Course, and is redesigning the field of higher education through Gaia University - The University for World Changers. Along with seats on the board of the Apios Institute for Regenerative Perennial Agriculture and the Mindful Living Initiative, he holds an M.S. in Eco-Social Design and blogs his research on financial permaculture, ecosystem investing, and carbon farming at appleseedpermaculture.com's blog.
Connections –
Dyami Nason-Regan and Ethan Roland
design at appleseedpermaculture.com
http://appleseedpermaculture.com