Connecting Permaculture & Transition. Interview with Karen Schulkin, The San Francisco Seed Library by Willi Paul, PlanetShifter.com Magazine
Submitted by Willi Paul on Tue, 05/29/2012 - 07:52
Axis:Image: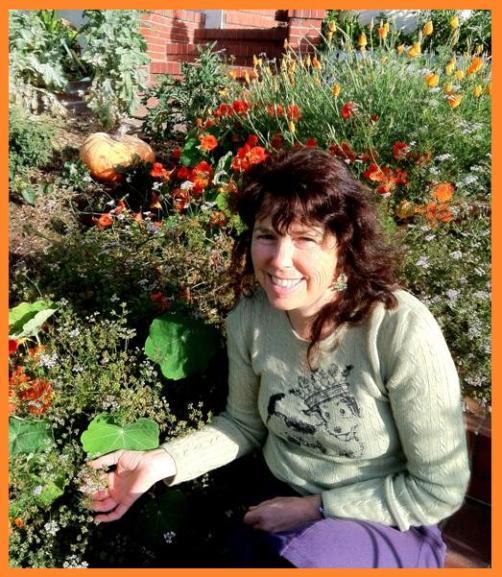 Connecting Permaculture & Transition. Interview with Karen Schulkin, The San Francisco Seed Libraryby Willi Paul, PlanetShifter.com Magazine
The San Francisco Seed Library (started in February 2011 as a project of TransitionSF & Permaculture Guild, with locations in Potrero Hill Public Library & Hayes Valley Farm) is looking for people to help in a variety of ways. If any of these interest you, please reach out to Karen Schulkin. There's an opportunity to receive Timebank hours for this.
* Help with tabling at events
* Growing plants to seed
* Mentoring seed savers
* Writing: email updates, newsletter, and other communication for email, website, and social media)
* Maintaining regular contact/communication with existing and/or new Seed Library branches as we nurture and grow
* Data entry for contacts and inventory updates
* * * * * * *
Interview with Karen by Willi
What drew you to do the work at the SF Seed Library in the first place?
I love the idea of people coming to the library and choosing seeds (that is always exciting) and the care they take in selection, planting and growing and then the collecting seeds to bring back. The whole process is so basic and such a wholesome way to connect with our neighbors and have something in common and something to share with the community. It just feels really good. And I also loved the idea of fostering plants based on neighborhoods, finding plants that grow really well in my cold, windy neighborhood would be exciting for a lot of people in SF and same with other neighborhoods.
And the seeds themselves feel like something truly sacred, the beauty and the variety-it feels like an honor to be able to behold what the plants are offering.
What challenges does the organization face today?
The organization faces the challenge of time. I have not had the time or volunteers to really do a good job with accomplishing the mission - which is to have local seeds for local people. This is shifting though. We have recently put out a call and received some really wonderful offers for people who want to be involved so we will be getting together to shape the next phase sometime in June. Anyone interested in being a part, can contact us.
Which organizations are a primary partners for the Library? Why?
The library is a project of Transition SF but right now that doesn't mean much. The library is benefiting from the SF Public Library, in allowing the space and putting up with the inconvenience. We are working on how to make it accessible but not a nuisance for the librarians. The Seed Library recently received Time Bank hours to give, so we can give time bank credit for helping. We have no funding so all the seeds and envelopes and stamps and all are coming from past donations and my pocket.
When you asked the community to "assist with Mentoring seed savers," what do you need?
We need to have seeds from San Francisco. We need to find people in SF willing to let some of their best plants go to seed and collect and return. We would like to raise awareness on the importance of saving our own seeds and on how to collect and store and breed plants too. Our projects going forward will be involving community outreach to let people know the Seed Library exists, how to find us, how to connect and asking the community and school gardens to begin letting plants go to seed for us. We can have some volunteers to come and teach how to do this and to collect the seeds if they want help.
How did the Richmond Grows Seed Library influence this project?
Richmond Grows influenced the SF Seed Library by bringing forth the concept to us. We had never thought of this before. They put all their material online so other libraries could easily duplicate their model and they share everything. They also have youtube videos on how to save basic seeds. Rebecca Newburn is a bundle of energy, she is an inspiration for what can be done and how to do it.
Seed School? What is this?!
Bill McDorman is a seedsman from Arizona and began sharing his knowledge through Seed School. It was about 6 days, we stayed overnight and were together for the whole time. There were about 10 people and we learned all about seed saving and breeding and plant stories with presentations from community people and Bill's extensive experience.
How do you determine that seeds donated to the Library are not GMO?
We ask for non GMO seeds but I don't think the public has access to these seeds anyway. The GMO seeds are sold to large farmers and my impression is that you would be able to tell, they would be different. They have coating on them of some kind. I don't think it is a problem but I could be naive. I have been purchasing seeds from Sustainable Seed Company after we ran out of the donated seeds we had last year. This is a local seed company and is definitely not GMO.
What is sacred to you?
This question hardly gave me pause, what is sacred to me is the garden-watching nature do what nature does. In any form. I spend 15 minutes every morning gathering snails for my chickens and pulling some greens for them and have been doing this for about a year. I recently started to realize how much those 15 minutes stayed with me throughout the day. I feel excited about the life in the yard-the birds, the insects, the plants growing and changing. There are always things I want to share after I am out there, how amazing the plants are, how the snails all stay near each other, the huge number of roly poly bugs and how they eat up the sticks and the outside of the fava pods. I was thinking to myself that if everyone had access to this, or paid attention to some little plot of land or potted plant, that we would be different as humans. I asked a little boy at the skill share yesterday, he goes to the school in Berkeley where they have the edible school yard, if there were any kids at the school that didn't like the gardening and the cooking. He said" no, well maybe one or two out of 500 kids." Kids don't need tv and video games, they need nature. I think it is a basic human trait and is too distant a part of our lives these days.
Do permaculture principles integrate in the Library program? If so, how?
I don't know how to answer this. I don't know that much about permaculture. I think the seed library concept is working to reduce outside waste and to create local sustainability. It is educating, empowering and fostering self reliance and connections with different members of the community-the current gardeners with the more advanced skills of seed saving to help bring up the rest of us in knowledge. The more people with these skills, the more choices we will have of plants adapted to our area and the less we will rely on far away seed farms and the more we can grow for ourselves. And the happiness of the connections will be brought to the people here, the connections of person to person and person to nature. There is nothing more satisfying and this is what will save us.
* * * * * * *
Karen's Bio -
I became interested in growing food when I read an article in the SF Chronicle about perennial vegetables and also read a blog called Club Orlov, he described the situation in the Soviet Union and how bad things were. I wanted to begin to learn self- sufficiency. I listen to KPFA during the day while working and was also influenced by the pledge drives at the time-"Fresh food from Small Spaces" and "food not lawns". I live on a corner house, big lawns and lots of visibility but bad weather and the available land was on the hills (my husband uses the flat spaces for his dahlia growing). I started growing perennials because I have little time and wanted to put things in that would not take lots of planning or time. I started small and kept building, digging the lawn as I went. My first plants were cardoons, they are still going, and they are stunning. The leaves are huge and the flowers so beautiful I can never cut them until they die.
Neighbors would stop and ask about the plants and I was as excited and surprised as they were. I thought they were artichokes. I went slowly, filling a little space at a time, based on how much time I had and what my inspirations were. I heard a radio show about the butterfly on San Bruno Mountain and needing habitat, I went to Sloat Nursery and found it so confusing to try to pick plants for butterflies and bees and all, that I figured it was a safe bet to choose natives. I went to the native plant nursery at HANK and filled each side of the yard with natives. Now they are beautiful-have totally filled in the space and are setting seeds all over the place. I eventually had the input of KitchengardenSF and TransitionSF. They transformed the yard in one day. It is now sheet mulched throughout and everything is growing like crazy.
The SF Seed Library is a project of Transition SF and we have seeds in the Potrero Hill Branch library. It has been open for about a year. The inspiration came from the Richmond Grows seed library. I went to their first orientation, it was on my birthday and I was not feeling well that day, but I took the trip over to Richmond and it was so exciting to see the people there, learning how to use the library, becoming familiar with the concept and the sharing that went on-people talking about what they were going to grow and what they like to eat. I had never experienced anything like that. Rebecca Newburn had her Rosie the Riveter outfit on and the mood was exciting and I loved the idea of having seeds for our city, for having plants that would do well in our different neighborhoods(especially where I live with the fog and wind and cold). I was inspired to work on this in SF and worked with a team, Ania Moniuszko and Beverley Pfizer and Lia Hillman at the Potrero library was generous with us to give some space and deal with the start up hassles. We had donated seeds from seed companies and the Bioneers Conference seed swap (we took as much as we could carry home that night) and BASIL in Berkeley also gave us a big bag of seeds from their seed swap (that was one of the sweetest and most fun events I have ever been to and I would love for us to have that here).
Last year, I went to Seed School, put on by Native Seed Search, taught by Bill McDorman and learned in-depth about seeds for 5 days. There is also a group of seed libraries in the area. We had a meeting about a year ago, to see what everyone is working on and to network. And last year, at the Heirloom Festival, we met up again and started a nationwide network of seed libraries. The concept is growing fast across the country. There are all kinds, from a suitcase full of seeds on the go to branch libraries with many outlets.
We collect seeds from my yard and Alex Hyde is my hard working partner right now packaging seeds and keeping the library stocked and collecting seeds too. I just got TimeBank approval for the Seed Library to have hours to grant, so my hope is to get some help in developing the program-we need help in finding places to grow out plants to collect seeds from and in teaching more classes and doing some outreach. I feel where we are lacking is in knowing our community and I have been purchasing seeds to keep the library going rather than in seeds we have collected ourselves. The seed shucking and drying and all that takes time. I often work 6 days a week at my job and have hardly any free time.
We are still trying to make the library more according to its goal-a place to share seeds, a means for growing plants in different neighborhoods adapted to those climates and to train people how to grow plants, collect seeds and eat their own foods. We would eventually like to have branches in more neighborhoods too and maybe a mobile branch, a bicycle or suitcase or something fun like that to take out on the weekends. We are still limited by the amount of labor we have available though. Anyone interested in helping, let us know!
Connections –
Karen Schulkin
Klschulkin at yahoo.com
The San Francisco Seed Library