OccupyStrategy? 5 Questions for Eli Zigas, food systems and urban agriculture program manager at SPUR. In support of: Panel Discussion - Expanding Urban Agriculture on Public Land. May 16, SF. Interview by Willi Paul, Permaculture Exchange
Submitted by Willi Paul on Sun, 05/13/2012 - 20:24
Axis:Image: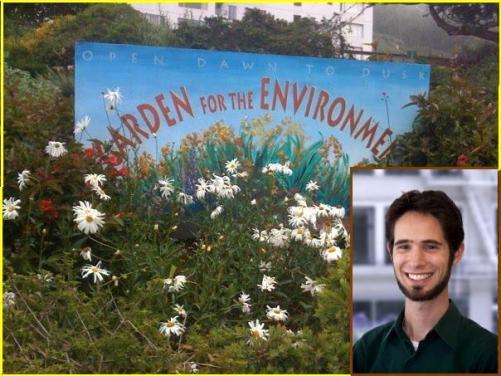 OccupyStrategy? 5 Questions for Eli Zigas, food systems and urban agriculture program manager at SPUR. In support of: Panel Discussion - Expanding Urban Agriculture on Public Land. May 16, SF. Interview by Willi Paul, Permaculture Exchange.
The Event -
Panel Discussion - Expanding Urban Agriculture on Public Land
Date: Wednesday, May 16
Time: 12:30-1:30 PM
Location: SPUR Urban Center, 654 Mission Street
Free to SPUR and 18 Reasons members; $10 for non-members
Co-presented with 18 Reasons and Kitchen Table Talks.
Hundreds of San Franciscans are on waiting lists for community garden plots and demand for urban agriculture space
in the city is high. Public land has high potential for filling the gap, but city resources and institutional support are limited. Join panel members for a discussion about the city's current involvement in and support for urban agriculture.
• Juliet Ellis, assistant general manager for external affairs at the SF Public Utilities Commission
• Mei Ling Hui, urban forest and urban agriculture coordinator at the Department of the Environment
• Blair Randall, executive director of Garden for the Environment
• Eli Zigas, food systems and urban agriculture program manager at SPUR
* * * * * * *
The Interview with Eli by Willi –
Please define "public land" from a SPUR point-of-view?
Public land is land owned by a government body — either at the local, state, or federal level. In San Francisco, this includes land maintained by agencies such as the Recreation and Parks Department, Public Utilities Commission, California Transportation Department, California State Parks, and the National Park Service.
My Permaculture training has succumbed over and over again in that without access or ownership to quality land, there will be no gardens. No food. Comment?
Access to land is definitely one of the biggest obstacles to growing food for many San Franciscans. So many people in the city live in units without a yard or are renters and don't have the ability to change their home's landscaping. And, even where there is space — at places like community gardens — hundreds of residents are on waiting lists for a small plot of land. The demand for land far outstrips the supply. However, there are many more places where we could be growing food on public land. The trick, as we discussed in the SPUR report, Public Harvest, is matching the interest from residents and local organizations with that land.
How is the City / County of SF looking at large community gardens in terms of zoning?
In April of 2011, Mayor Ed Lee signed into law an ordinance that created two types of urban agriculture zoning classifications. The first, called " Neighborhood Agriculture " permits gardens or farms of less than 1 acre in size anywhere within the city provided that certain operational regulations are followed. The second category, called " Large Scale Urban Agriculture " permits gardens or farms 1 acre or larger in the industrial zones in the city. For all other zones of the city, to have an urban agriculture operation an acre or larger, the operator would need a special exemption called a " conditional use permit ", which has higher fees and requires a hearing before the Planning Commission.
Do you see more land grabs from Occupy folks? The UCB cops are occupying the Gill Tract now. Talk to me about sustainable land use policy and values!
I have no idea whether others will replicate the effort at the Gill Tract.
That said, I think there's no question that in the urbanized parts of the Bay Area, there is a strong demand for space where people can grow food or learn about growing food. And since those efforts often require more land than what's available in an individual yard, people are looking to public land for space. And, so long as the urban agriculture project doesn't result in private gain (without compensating the public by paying a lease or similar fee), I think it makes sense for cities and counties to make more land available for the growing of food by individuals and organizations.
Community gardening and farming provides the public with greenspace, recreation, education, community-building, and ecological benefits. In other words, urban agriculture benefits more the public broadly, not just those who have their hands in the dirt.
Can we design compatible uses on public lands when combining food forests, recreation and education?
Any examples?
Urban agriculture, recreation, and education can all fit together on public land. I think a great example is Garden for the Environment, which is at 7th and Lawton. It's a demonstration garden with classes every week. It's open to the public, offering a space to have a picnic or a nice stroll. And, much of the food they grow is donated to organizations through the group Food Runners. Additionally, the Urban Agriculture Park planned for Treasure Island is also envisioned as a place that mixes a production farm with demonstration gardens open to the public.
* * * * * * *
Eli's Bio –
Eli Zigas manages SPUR's Food Systems and Urban Agriculture Program which seeks to catalyze the development of urban agriculture, regional foodshed planning, and a vibrant, accessible food system in San Francisco. Before joining SPUR, Eli was Program Manager for DC Vote, an education and advocacy non-profit organization in Washington, DC. In that capacity, he managed foundation and direct-mail fundraising and assisted with outreach programs. Prior to working for DC Vote, Eli was the Communications Manager for the Udall Legacy Bus Tour, a cross-country biodiesel bus tour promoting public service on environmental and Native American issues. He is also an active member of the San Francisco Urban Agriculture Alliance.
Connections –
Eli Zigas, SPUR
ezigas at cultivate-sf.org
http://www.spur.org/
415-781-8726