Call for Perm-Trans-Occupy Strategies to Revitalize Burlingame (CA) Post Office - Willi Paul
Submitted by Willi Paul on Thu, 04/19/2012 - 08:19
Axis:Image: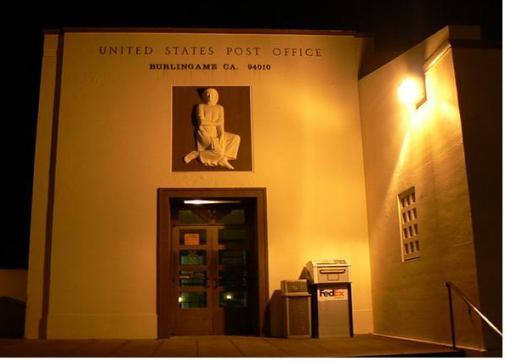 Hi Folks -
I would appreciate any project templates, community organizing tips or re-use strategies in support of a community revitalization design for the historic Burlingame Post Office. Time is short to bring the community together. My letter to the San Mateo Daily Journal is below.
Thanks for any assistance.
WOX
//
Our post office vision, public or private property?
(April 19, 2012)
Editor,
With now less than 15 days to intervene in the undemocratic, rushed sale of the Burlingame post office to the "highest bidder," it is deeply troubling that your publication can completely miss the multiple concerns that were expressed by the public in attendance at the U.S. Postal Service meeting Monday night (in response to "Burlingame gathers input for post office relocation" in the April 17 edition of the Daily Journal). Your reporter completely omitted the voices of local residents who want to have a say in the fate of our beloved historic postal office. It is also worth noting here that Councilwoman Terry Nagel said nothing in support of a community-sponsored re-use or revitalization vision.
In addition to my call for a community group to challenge the City Council and private developer process now in place, citizens also need to petition the USPS officials and their consultants for an extension so the public can develop their plans for the property.
The time is now to organize and discuss a possible lease-back, community-based program for our post office.
Willi Paul
Burlingame