NorCal Transition Yeast: Interview with Peter Ruddock, Slow Money, Transition Palo Alto & San Mateo County Food System Alliance. By Willi Paul, Planetshifter.com Magazine
Submitted by Willi Paul on Mon, 03/19/2012 - 13:30
Axis:Image: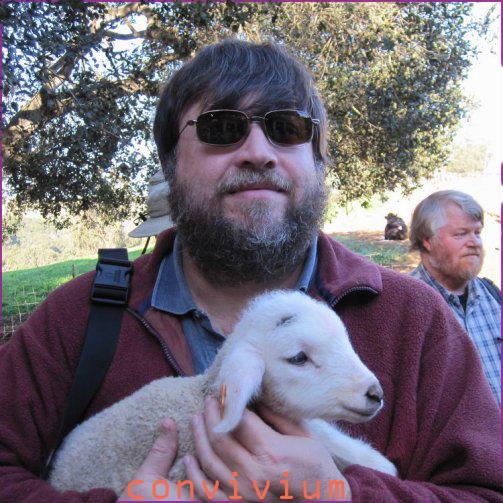 NorCal Transition Yeast: Interview with Peter Ruddock, Slow Money, Transition Palo Alto & San Mateo County Food System Alliance. By Willi Paul, Planetshifter.com Magazine.
"The International Slow Food movement is a non-profit organization comprised of more than 100,000 members worldwide, dedicated to promoting Good, Clean and Fair food throughout the world. We savor epicurean delights, and enjoy fine food and wine tasting events, culinary classes and regional gourmet specialties, while working toward improving access to Real Food. Our members support local organic farmers, artisan producers and vintners.
The South Bay Chapter, originally the Silicon Valley Convivium, was formed on 27 October 1997. What could be more fun than sharing a passion for good food and wine with other people who feel the same way?"
* * * * * *
Interview with Peter by Willi -
Slow Money? What is this?!
Slow Money is a non-profit begun not quite four years ago here in the Western U.S. Founder Woody Tasch was an investment manager, who was frustrated in trying to steer his investments toward socially responsible projects. Despite his best attempts, he found that the net effect of using money earned in the mainstream economy usually had more bad effects than good ones. Inspired by Carlo Petrini of Slow Food, who wants to re-create our food system on a local, sustainable level, Woody decided he could do the same thing with investments – people could be enabled to invest in their local economies.
In the spirit of its philosophical namesake, Slow Money investment would start with food, which is an ideal component of our economy to localize. Food is not only one of the largest components of any economy, but has many effects on our health and environment. An investment in local food would not just build our local economy itself, but it would tend to improve the health of the local environment and the people who grow and eat that food, creating beneficial ripples through that economy. So far, more than $15 million in local investments have been facilitated by Slow Money across the U.S.
What is this so-called Transition, Peter? From where to where?!
If you ask most people who know about Transition, they will tell you that it is a transition from a society dependent on fossil fuels to one that is not. This is driven by the twin problems of Climate Change and Peak Oil, which can only be remedied by weaning ourselves off of our fossil fuel addiction. I won't argue with this. It's true, as far as it goes.
I feel, however, that this is only a part of a larger Transition. Most people operate from a point of view that they are somehow apart from the Earth; that it is there for them to use. Given this point of view, we don't think about the effects we have upon the Earth and therefore ultimately upon ourselves. Instead, we are in fact an intrinsic part of the Earth, whether we admit it or not. To me this is the larger Transition, from the belief that we are the owners of the Earth to the understanding that we are members of an Earth ecosystem.
I was attracted to Transition, as I was to Slow Food and to Slow Money, by its philosophy of building community. The thought is that this community, in understanding our relationship to our Earth – and to each other – will begin to fix some of the problems that we have caused. We will want to get off of fossil fuels, because we will realize that it is in our best interest to do so. And if we do so, not only will we prevent the worst effects of Climate Change and the ramifications of Peak Oil, but we will also prevent the worst effects of Toxic Overload, Ocean Acidification, Peak Soil and other calamities awaiting us in the future if we continue with our current paradigm.
How you see the role of competition in the Transition Movement?
Modern capitalism tells us that competition is an unalloyed good, that it generates innovation. It often does, although usually at great cost. We externalize this cost, by making people who are not competing – taxpayers and others – pay for it. People who lose in competitions are often left to their own devices to pick up the pieces.
This doesn't mean that competition is bad. If we think systemically, understanding that we need to include all effects of a process - externalizing nothing, and that we are competing within a set of parameters - within an Earth ecosystem, competition can be a good thing. Is there one path to a fossil fuel free society? To an Earth-centered community? No. If different Transition groups try different paths, one or more of them should turn out to work. We can assume that all of these groups will be working toward a fossil fuel free society; we will want to help those who tried a path that did not work move to one that does. We will want to balance competition with cooperation.
Does the work and vision at Transition Palo Alto including all sectors of the populous?
No. This is true of Slow Food, Slow Money, other Transition initiatives and other non-profits and environmental organizations as well. In theory everyone is welcome. I'm sure that in practice everyone would be welcomed too. But most people choose not to participate. The majority of people involved in Transition Palo Alto, as in those other organizations, are white folks over 40. What are we doing wrong? We agonize over this some times. Mostly it comes down to the fact that we are not making it attractive to other people, to younger folks and to minorities. This will continue to be one of our greatest organizational challenges.
What are the specific parts of the San Mateo County food system that you wish to form into "a cohesive group capable of creating an ever healthier and more vibrant local food economy?"
All parts. The San Mateo County Food System Alliance is made up of representatives from organizations all over the county working on food system issues. Many organizations focus on a single part of the problem, from land access to school lunches, from school gardens to local food distribution. If we are missing a part, we look for a stakeholder to represent it. For example, we currently have no one representing restaurants, and so no one to think about the possibility of local sourcing from that point of view. Taken together we want nothing less than to create a food system that is good for our land and our residents, those who grow our food and those who eat it.
Please update us on the Alliance's efforts in the poverty and obesity sectors?
We have members who work on these issues. The Second Harvest Food Bank is a member, as is the San Mateo County Health Department. They work on the immediate impacts of poverty and obesity, respectively, on a daily basis. The rest of the members of the Alliance support them. Many of us participate in the semi-annual Get Healthy San Mateo County events, which generate great enthusiasm and good projects.
In the longer term, we are creating policy recommendations which we are planning to take to the governments of San Mateo County and its 21 cities.
What is your track record as you bring government and citizen activists together?
I feel that I am doing well bringing citizen activists together. Many people understand these issues and want to work together. They just need a structure in which to work. All of the organizations I am working with are growing their memberships and getting things done.
I'm new to working with government. Time will tell. Government officials are busy and have many different constituents to listen to. We've given them a difficult job. Still, many of them seem to understand the issues as well, and welcome our involvement. In fact, they need a visible and vocal population behind a proposal if they are going to act on it.
What are the challenges to integrate health and nutrition education programs at all local elementary schools?
The challenges are legion. Money – we underfund our schools and pay our teachers too little. Infrastructure – in order to save money we have taken kitchens out of many schools. Bureaucracy – overworked administrators often don't want to try anything new; grounds maintenance people don't want the trouble of dealing with school gardens. Standards and testing – health and nutrition are not a big part of the current standards, and our teachers are required to teach to the tests, written to those standards.
Attitudes and ideology – there are people who benefit from the current system, most notably providers of the food which is served in our schools. Change is hard. It can cost companies money. And so they will lobby and make excuses to keep from changing. Did you hear the one about not teaching gardening education to immigrants, because they came to this country in the first place to get away from that kind of thing?
Some of my great local heroes are the teachers who are figuring out how to include health and nutrition education in their curriculum despite these challenges.
How do you see the impact of WholeFoods on the local scene these days?
Whole Foods is a mixed bag. They support many local initiatives and source from local farms and producers. They label well, even where they are not required. They foster local producers and even have a loan program for them, with a dedicated support person. They don't do enough of this. In part this because the supply is still small. In part it is because of their model of distribution, which is similar to other large grocery stores in many ways.
I do not buy much fresh produce from Whole Foods, mostly because it is not fresh enough for me. I've gotten used to getting the freshest food from our local farmers' markets and my CSA, Capay Valley Farm Shop. At its best, Whole Foods' produce is about five days old; my produce was picked the day before I got it. I do buy dairy goods from them, as they carry the best local milk and yogurt, which is hard to get elsewhere.
Do Occupy and permaculture integrate into your work? Examples?
Not much. I observe what is going on with them. I hope to learn from their efforts. I do work with a number of local ranchers who practice Holistic Range Management, which is a close cousin to permaculture. The goal is to raise awareness of their practices and to help create a market for their products. I can imagine that if someone had a farm based on permaculture – was raising a Food Forest, that I would want to do the same for them. To my knowledge no one is doing this commercially, locally, yet.
How do your personal values relate to the values of TPA? Is there a spiritual component?
I spent too many years working in Silicon Valley, under a venture capital system, wherein people were made to compete with each other and even worthwhile projects were abandoned if they did not produce enough wealth for the principal investors. It was often a system of divide and conquer, where individuals competed with other individuals. Yes, there was cooperation, mostly within the team producing a big program, but it was shoe-horned into the larger competitive system. I like to think that my pre-existing values were sharpened by watching a system that worked a different way; by learning how not to do things.
I have long been an environmentalist, been of the belief that we are members of the Earth's ecosystem. Much more recently, I came to a full understanding that to be a community, we need to act as a community. I like to think that this is in itself spiritual, knowing that we have these relations to each other and to all things on the Earth.
* * * * * * *
Peter's Bio -
I have long been a traveler, hiker, environmentalist and explorer of culture. And of food, which acts as the connection between all of my other interests. So, a few years ago when I discovered Slow Food, I thought that it would be a great fit, with its dual philosophy of protecting and celebrating food. Little did I know that it would end up re-defining my life. Not only have I been active with Slow Food, in both the South Bay and Santa Cruz chapters for the last few years, but I have also created a food working group at Transition Palo Alto, initiated a South Bay working group for Slow Money Northern California and regularly participate as a member of the San Mateo County Food System Alliance.
Connections –
Peter Ruddock
Peterruddock at yahoo.com
Slow Money
Transition Palo Alto
San Mateo County Food System Alliance