The Tree Fort Code. Interview with Kelly Hogan & Matt Bibeau: Advanced Teacher Training in Youth & Child Permaculture Education Course, June 2012, Portland, OR. By Willi Paul & planetshifter.com
Submitted by Willi Paul on Sat, 03/10/2012 - 08:48
Axis:Image: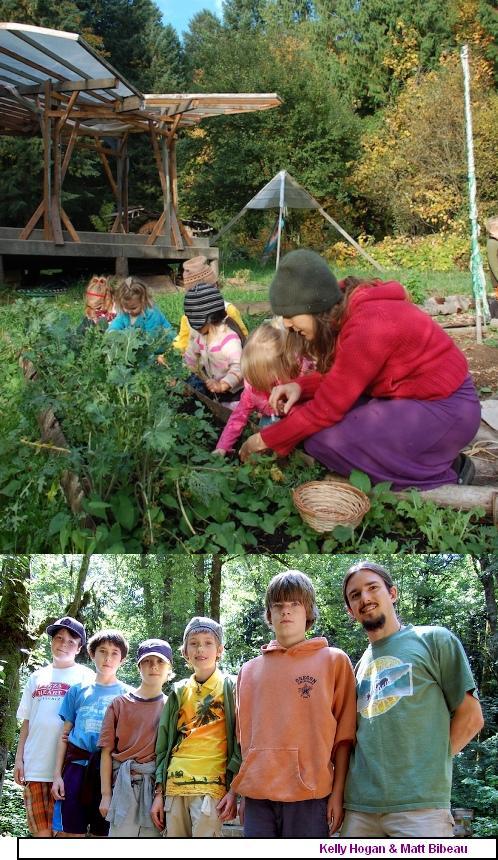 The Tree Fort Code. Interview with Kelly Hogan & Matt Bibeau: Advanced Teacher Training in Youth & Child Permaculture Education Course, June 2012, Portland, OR. By Willi Paul & planetshifter.com
I'm saturated. I'm wet with your tears, you spill so easily.
In reflection I'll see you again.
Approach me, soak me.
Faith, faith, breathe.
'Cause it's here, it's where the air is clear,
Where far off things could be quite near.
No repairs are needed, just a spark.
I'm interested, you've always been a subject, that I could learn.
Splendid hills, unconquerable mountains.
Climb, don't ever turn back.
Seed, seed, grow.
Spark, The Church Live
* * * * * * *
Introducing a Special Class:
Advanced Teacher Training in Youth & Child Permaculture Education
Permaculture is the conscious creation of a regenerative system that reflects the inherent balance, stability, and harmony of nature. Education should be the same. This course applies permaculture principles and design to popular and alternative educational models. It offers a wide range of learners and teachers an opportunity to explore new possibilities and practice new skills. It supports the shift towards regenerative learning and living, and the recognition that each are inextricably connected in the practice of life.
This course is designed for parents and teachers of children ranging in age from early childhood to middle school who desire to integrate these principles into the classroom and beyond. Some of the time we will be working together as a large group, and other times we will hold break-out groups focused on early childhood, grade school and middle school.
Many hands-on and experiential aspects will be integrated into the course, modeling and practicing these and related topics:
* Application of PC Principles to Teaching
* Therapeutic Effects of Nature-Based Activities
* Classroom Management
* Strategic Community Building
* Curriculum & Site Design
* Creating Garden Classrooms
* Forest & Garden-Based Learning
* Education through Movement & Exploration
* June 15, 7pm-9pm - Alternative Education Panel (open to the public)
* Saturday June 16, 9am-5pm - Sunday, June 17th (Weekend-only registration option) $180
* Saturday June 16, 9am-5pm - Thursday June 21st (Full certificate course registration option) $480
* 72-hour PDC or 12+ hour 'Intro to PC' are prerequisite for the full course, PDC required for receiving an advanced teacher training certificate.
* * * * * * *
Interview with Kelly & Matt by Willi
Kids are seemingly glued (forever!) to electronics, social media and the Internet. Is this a competitive space as you try to teach forest lore or regenerative systems?
The challenge for almost every educator is how to reach a generation of children who have grown up less in the natural world and more in the digital and virtual one. Of course, with the younger children, they've had less exposure to it, so the strategy is a little bit different than with school-aged children. For example, with the Mother Earth School (MES) children, ages 3-6, they are in most cases not using electronics. MES is a media-free school and our approach to education encourages the children to develop their imaginative capacities. These faculties are greatly diminished when the media feeds images of characters and stories that leave little room for individual interpretation. Although some children at Mother Earth School may start the year wondering why there are no toys to play with, they inevitably finish the year in a rich world of imaginative play where sticks are transformed into fire hoses and ferns become the fire. The benefits of such open-ended play are clear, especially during our summer camps when MES children play alongside children from more traditional educational settings.
Older, school-age children have bitten the line a lot harder. Some have their own I-pods and cell-phones in addition to TV, video games, computers and internet access. Exposure varies widely, from children whose parents don't let them watch TV to children who have their own TV, for example. As a strategy—especially in the public school setting—an educator should be looking for the most accessible and regular opportunities to engage the children in more natural settings. Purely from a zone analysis perspective of a child's educational setting, the most accessible place outdoors is the school grounds. This is where the school garden becomes an excellent leverage point with an education system that puts a premium on performance and unintentionally reinforces the notion that out-door time is for playing and indoor time is for learning.
Children who have regular time in a school garden will not only absorb what we adults understand as the principles and ethics of permaculture naturally through their own observations and experiences, but also the fuller utilization of their senses and capacities makes learning easier for a lot of kids. Many of them actually perform better on tests because nature engages more intelligence types than the classroom ever could and the learning is retained to a higher degree. Recent research has revealed this benefit of garden-based learning. Under the current circumstances, there's no better leverage point for shifting school culture than this: nature learning helps the students—and the school—perform better in the ways that success is currently measured. Everything else from ecological literacy to youth development healthy food habits are the surplus, as well as the primary motivators for many alternative educators.
There is so much fear in the world. How will your course address the sources and solutions for kids?
As a general approach, an effective design for education is to not necessarily pass information, but to offer the opportunity for the information to be absorbed through observation and experience. So when we're looking at teaching permaculture, it's really more like creating opportunities for permaculture—or the inherent patterning, wisdom and efficiency of nature—to be revealed to the children. Referring back to a zone analogy, when a child is taught about the plight of the rainforest in the Amazon, an example of a zone 5 issue to the American child, this information has very little context and can actually jade the child from developing an empathetic relationship with nature. This unintended consequence of the first wave of the environmental education movement has partially informed how we approached the 2nd "sustainability" wave and how we will continue to approach the emergent 3rd "regenerative design" wave.
Now, if the developing child first learned what it takes to maintain the life of a plant, and what supports and impedes its health and growth, and learns now to extrapolate this knowledge to the whole garden, then the neighborhood, local farm, bio-region and beyond, the child would then have a much greater ability to contextualize the issue at the scale and distance of the deforestation of the Amazon rainforest. This is ecoliteracy at its best: taking ecological knowledge from a learned experience at a smaller scale and appropriately applying this knowledge to develop an understanding of other ecological patterns and phenomenon. Ecoliteracy is a true pattern language.
So in this way, solutions begin at the very local scale—the zone 1 of the child's world of experience—and grow out from there. We refer to this as a permaculture design for education. To a young student, we don't need to define permaculture and explicitly teach its principles for the child to absorb the virtues of what such an ecological design has to offer. That would be reserved for the more mature student in the later years of middle school and throughout high school.
What are some of the more important skills that a parent should have in their permie tool kit?
In the words of Henry Thoreau, "Simplify, simplify." Do less. Cut out what is not necessary or what isn't supporting a balanced child. A fully scheduled day is an imbalance in the child's activity and stimulation threshold.
Create a rhythm. Daily, weekly. Yearly. Rhythms and patterns help create ease, flow and consistency. Nature speaks to us in rhythms and can guide us in creating our own. The need for discipline is greatly reduced when children know what to expect and can be given age-appropriate, meaningful ways to contribute. In this way, the natural consequence of disrupting a cycle, pattern or flow is a learning moment in itself.
Assess the degree that your child's optimal schedule and flow is compromised by the parent's schedule. Instead of expecting children to adjust to every aspect of an unnaturally intense, fast-paced lifestyle, identify where you can adjust yours to meet the needs of your children. (But be careful here! This is quite different than creating a flow that revolves around the desires of your children. )
Give children age-appropriate choices rather than the burden of making large decisions. This is the edge between freedom and boundaries. For example, instead of asking a child what they want to eat, instead ask "do you want this [healthy food] or this [healthy food]?" It is our responsibility to simultaneously teach and care for our children.
Redirection! Tell children what they can do instead of what they can't do. This effectively averts a majority of power struggles while giving them some choice and say in the matter.
Be careful not to make everything too easy for your child. The virtues of patience, motivation and determination are being lost in a culture where everything is fast, instant and easily accessible.
Prioritize establishing a parenting community to share childcare, skills and resources, transportation and even things like bulk food ordering. Make sure that you are modeling 'self-care' for your children (this just may be the most important thing that you can do).
Is it difficult to relay the ethics and principles to a 7 year old? Techniques?
Permaculture education for children need not be explicit to be effective. Provide them with the experience, and as they grow older and have a greater capacity for abstract thought, introduce more complex systems that further describe, inform and affect the things that were absorbed at an earlier age. (Examples: food web, water cycle, seasons, etc.)
By living these techniques, children will begin to embody them. Implementation of permaculture ethics and principles in the classrooms of young children should put the need for intellectual adult training courses out of business someday if we are truly successful at modeling permaculture principles and ethics for them.
How do you evaluate your success these days? Has this process changed since you started?
Ask yourself, "Do I have authentic, powerful and trusting relationships with my students and their families?"
We are all coming out of an educational system based on external motivation and standardized evaluations of success. It takes a huge amount of time and energy to shift away from that paradigm as educators. This process is constantly evolving. Sometimes the greatest measure of success is a direct experience of a child coming to life.
Do we need new symbols, stories, myths and/or language to engineer the Transition?
Yes. Also, we need to remember the old ones as inspiration and muse. Storytelling is an art and a way of teaching that has been assaulted by settler culture and the historical and ongoing effort to strip first-nation people of the very values, traditions, and languages that most accurately could express what we could call an embodied permaculture ethic. Pattern language, ecoliteracy and the kind of knowing that is nature-based and nature-informed are essential to shifting the ways that we learn and communicate.
Talk about spontaneous learning vs. the classic syllabus? What's working?
A balance is what works. A purely scripted education misses out on the thousand teachable moments that are instead treated as 'distractions.' On the other hand, not having a solid plan often lacks the kind of rhythm and accountability that creates a well-rounded learning experience. This balance is somewhere between a standard public school teaching approach and a purely child-directed education. A "living curriculum" is one that is intentionally designed through attunement to the needs of the specific children in the class. Imagination and creativity are the mechanisms by which children are able to problem-solve and find solutions that might otherwise be overwhelming if they are not supported in stepping outside of their comfort zones. This is where the role of the holistic educator is vital to their development as a well-rounded individual and active member of their community.
Is what you call "movement games" a form of dance? Examples please.
Movement games engage the body in therapeutic ways. Diversity of movement is essential for sensory and brain development and is achieved most completely in an outdoor, natural environment. Most (maybe all) challenging classroom behavior can be traced back to some sort of sensory (including emotional) over-stimulation. Movement and relationship-based education balances the modern technology-driven culture that has contributed to sedentary isolation from each other and our bodies.
Movement is therapeutic in many ways, including as a form of relaxation for children who actually strain to sit still. Playing games that encourage balance, coordination, crossing the midline, spatial awareness, crawling, spinning, jumping, etc. is crucial to even academic success. Games make it fun!
There are many examples of movement games and activities, from simple traditional games that we all played as children to more complex and specialized versions. Dancing is an excellent example of healthy, developmental movement. This is perhaps one reason why dance is commonplace in most indigenous traditions. It is also a form of learning.
Can this course, focused on children, also be taught to seniors?
The course really focuses on how to design our approach to education, so in a way, yes, it could apply to seniors. However, unlike a young child, a senior might actually enjoy attending a permaculture design course, and if they are looking for tangible ways to apply what they learn, attending our teacher training offers that opportunity. Multi-generational experiences modeling meaningful work have been at the seat of culture until only recently.
What do you want educators to take away from "Strategic Community Building?"
Our course aims to shift the paradigm that teachers are the only educators, that schools are the only places of learning, and that competition is the only pathway to success. By offering a design approach to community education, we discover that a bit of strategy goes a long way in weaving a connection between education and community. The children benefit from our work as educators—classroom, community or otherwise—in making these opportunities accessible to them.
Are you teaching localization?
Yes, absolutely. Zone mapping is a fantastic way to teach localization to children and adults alike. While the level of complexity would vary depending on your audience, the concept of relative location (and localization as an example of this at a specific scale) is one that can be designed for the grade school ages and up. In early childhood, the work of the educator is most effectively achieved through embodying the educational design, since in those youngest years, children are learning from modeling what they are witnessing.
How has Occupy impacted your goals and programs?
As educators, we have a rich opportunity to activate and develop the cohesion necessary for a more rapid transition in the direction of holistic education. This is the kind of education reflective of permaculture principles and ethics. This is the kind of education that promotes 'earth citizenship' and regenerative cultural values & practices through the integration of nature & community in the learning process and setting.
Educators have to work harder than ever to mitigate the damage caused by a media-saturated society & life experience, reinforced by (amongst other gimmicks) child-targeted advertizing that perpetuates the young onset of materialism and subscription to false needs. This life experience is also reinforced by parents, peers and even the industrial education system itself, in that it neglects its responsibility for modeling a balanced physical, emotional, cultural, ecological and socio-economic pathway to adulthood and citizenship.
We as permaculture educators are in essence occupying the industrialized education movement that has enjoyed a prolonged occupation itself, emerging alongside the colonizing interests and industrial developments of the last several hundred years. The Occupy movement has given many of us fresh hope that the influence of corporations and the boldness of their assault on nature, culture and even the psyche of our youngest citizens, may be finally met by a game-changing force that will no longer sit idly amidst a call to action in a historic period of reclaiming control of our lives and right livelihoods.
Having compassion and integrity through this time of transition will be essential to gaining the trust—and taking the hand—of those around us. We have to be careful who we're marginalizing in this work. While the Occupy movement has experienced high success with its 99% rhetoric, we need support from all ends of the current economic spectrum to transition in a way that offers hope of a peaceful world for our children. There are some 1-percenters that are more actively rebalancing the political and economic landscape than many of the 99-percenters. This has largely been overlooked by the Occupy movement.
Money is a form of energy that has its own flow. Learning how to capture this as you would rainwater over a landscape will assure that we're not overlooking our own design as "99-percenters" when decrying that our landscape is too dry. Every challenge is a design opportunity, and I'll bet there are more willing 1% financers of this work than we've prepared to absorb into our social and political landscapes and communities. These financers will want to be sure that the one hand holding the bucket isn't going to be followed by the other wielding a hammer. Nature doesn't operate on that kind of economy either.
So, how has it affected our programs? By reinforcing our call to action as well as offering the reminder that we are only going to accomplish our goals together – and not only with just 99%. The fact is, we have allies in our Mother Earth School community who range from being below the US poverty level of income to the upper 1%, and you'd be surprised where our 1-percenter has been active lately!
* * * * * * *
Bios –
Matt Bibeau is a permaculture educator, youth mentor and community organizer based in Portland, Oregon. He holds a B.S. in Environmental Science and an M.S.Ed. from PSU's Leadership in Ecology, Culture & Learning program. Matt's graduate work focused on the design, development and capacity-building of school garden programs and urban educational farms. Receiving a PDC from Toby Hemenway in 2006 and a Permaculture Teacher Training Certificate from Tom Ward and Jude Hobbs in 2008, Matt wasted little time applying permaculture to his work in the field of garden-based education. In 2006, through a partnership with the City Repair Project's Village Building Convergence, Matt co-coordinated the design and construction of an outdoor classroom at a SE Portland school. A diehard VBC volunteer ever since, Matt currently serves as the core organizer of the event's programming committee for this annual 10-day community event.
From 2008-2011, Matt lived at Tryon Life Community Farm, offering workshops, hosting school groups and co-organizing/co-teaching PDC's with Marisha Auerbach (2008-09) and Toby Hemenway (2009-11). He continues to work with TLC Farm as the Development Director of Mother Earth School and as the farm's representative to the board of the Oregon Sustainable Agriculture Land Trust (OSALT). He is also active on the board of the Learning Gardens Institute and this organization's transition into a lease and a season of farming and programming at Jean's Farm in SE Portland. Matt and his wife Kelly are also organizers and teachers in a week-long permaculture training for educators titled Youth & Family Permaculture Education, likely being held at the Jeans Farm site. He currently resides just a short bike ride up Johnson Creek from Jeans Farm and looks forward to a splendid season of gardens and learning!
Kelly Hogan is Mother Earth School's Head of School. She has a Bachelor of Arts in Psychology and spent over ten years providing therapeutic care for adults with severe mental and physical disabilities. She began studying Anthroposophy when her son entered preschool in 2004 and became deeply inspired by the teachings of Rudolf Steiner. She received her Waldorf teaching certificate from the Micha-el Institute in Portland, OR and has been teaching since 2005. She moved to the intentional community at Tryon Life Community Farm in 2007 where she began to work as the assistant kindergarten teacher for Mother Earth Kindergarten - the first all-outdoor kindergarten in the United States. It was at the farm where she also became exposed to Permaculture.
After receiving her Permaculture Design Certificate in 2009, she realized that integrating Waldorf teaching methods with permaculture and wilderness skills would create an educational movement that serves the needs of today's world. She began to run Mother Earth School in partnership with April Blair as a project of TLC Farm. She lived in the intentional community at TLC Farm for almost 5 years with her two children, Talon (born Feb. 2000) and Yarrow (born April 2002), and her husband Matt. Her focuses at the farm included animal husbandry, beekeeping, social ecology, rites of passage, event coordination, and lead teaching the Faery Garden preschool. She is currently training in wilderness survival and primitive skills.
Connections –
For more info / registration for the Advanced Teacher Training in Youth & Child Permaculture Education Course, please contact -
Kelly Hogan: info at motherearthschool.com