Community Alchemy 8: Urban Transition Center, Video. Concept Plan Willi Paul, San Mateo, CA 1/31/12
Submitted by Willi Paul on Tue, 01/31/2012 - 16:36
Axis:Image: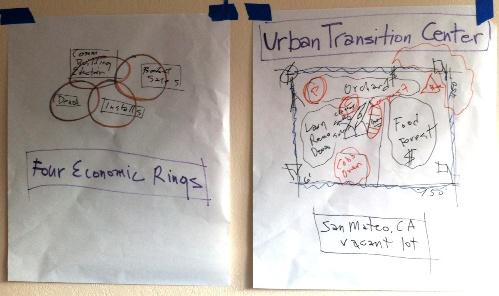 Community Alchemy 8: Video. Urban Transition Center, Concept Plan. Willi Paul, San Mateo, CA. 1/31/12
Notes:
Urban Transition Center is bolstered by four economic pillars:
1. Community building and education / outreach
2. Alt-energy product sales (energy saving, grey water, gardening, etc.)
3. Product demonstrations product trials
4. Install labor by Permaculture Exchange staff
Some of the components of the Urban Transition Center include:
1. 6' perimeter security fence
2. Corner lot lighting
3. Wind mill for site energy usage
4. Double Hoop House: sales, demos, education, seed exchange, etc.
5. Bee hives
6. Cobb Oven / Community Area
7. Lawn Renovation area (income)
8. Food Forest area (income)
9. Orchard (income)
10. Compost (multi-phase)
11. Chickens
12. Aquaponics