Slow, Steady, Beautiful: Interview with Ken Foster, Terra Nova Ecological Landscaping, Santa Cruz by Willi Paul, Publisher - PlanetShifter.com Magazine
Submitted by Willi Paul on Mon, 10/10/2011 - 08:19
Axis:Image: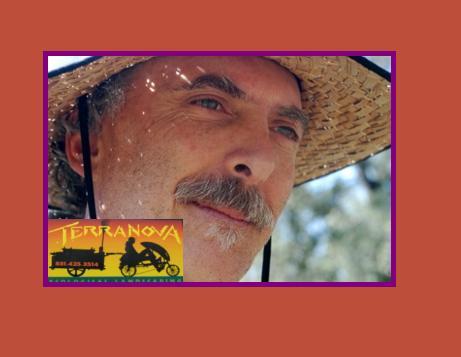 Slow, Steady, Beautiful: Interview with Ken Foster, Terra Nova Ecological Landscaping, Santa Cruz by Willi Paul, Publisher - PlanetShifter.com Magazine
Some of them were dreamers
And some of them were fools
Who were making plans and thinking of the future
With the energy of the innocent
They were gathering the tools
They would need to make their journey back to nature
While the sand slipped through the opening
And their hands reached for the golden ring
With their hearts they turned to each other's heart for refuge
In the troubled years that came before the deluge
Some of them knew pleasure
And some of them knew pain
And for some of them it was only the moment that mattered
And on the brave and crazy wings of youth
They went flying around in the rain
And their feathers, once so fine, grew torn and tattered
And in the end they traded their tired wings
For the resignation that living brings
And exchanged love's bright and fragile glow
For the glitter and the rouge
And in the moment they were swept before the deluge
Now let the music keep our spirits high
And let the buildings keep our children dry
Let creation reveal its secrets by and by
By and by -
When the light that's lost within us reaches the sky
Some of them were angry
At the way the earth was abused
By the men who learned how to forge her beauty into power
And they struggled to protect her from them
Only to be confused
By the magnitude of her fury in the final hour
And when the sand was gone and the time arrived
In the naked dawn only a few survived
And in attempts to understand a thing so simple and so huge
Believed that they were meant to live after the deluge
Now let the music keep our spirits high
And let the buildings keep our children dry
Let creation reveal its secrets by and by
By and by -
When the light that's lost within us reaches the sky
Jackson Browne - Before The Deluge
* * * * * * *
Interview with Ken by Willi
How is your design process and result different than a traditional landscape firm?
My design process is informed by Permaculture and ecological design principles and the results are productive, healthy and dare I say beautiful. Beyond design I have never seen a traditional landscape firm using bicycles with trailers to do landscape maintenance as we do.
Is there a recurring permaculture principle that seems to stand-out in your work - more than the others?
'Create No Waste' is a good Permaculture principle for landscaping because the industry has a propensity to be wasteful.
What are your key marketing messages at Terra Nova Ecological Landscaping?
The key marketing message is exemplified by the fact that we included Ecological in the business name from the beginning - " Ecological is not just our middle name " and that our logo is a silhouette of myself riding my recumbent bicycle pulling a landscape trailer with a broom and a rake.
Do you implement any localization strategies for Terra Nova Landscaping clients? Any examples?
One service we have offered for over 20 years is our bicycle powered landscape maintenance. If that isn't local I don't know what is.
We encourage neighborhood networking with our neighborhood discount program and by offering design services to entire residential neighborhoods. I am looking for residential neighborhood blocks that want to tear down their backyard fences and redesign the whole space.
Please critique the permaculture Guilds in general. Are they leading the way? How could they improve?
Permaculture guilds? In the past Santa Cruz had a Permaculture guild become very active, then fade away and then come back again. An ebb and flo.
Currently there is no active Permaculture guild in the area however I am pleased to serve on the Steering Committee of Transition Santa Cruz. The Transition movement (born out of a Permaculture Design Course) has legs that are getting stronger day by day. I love the specific focus that a Permaculture guild can bring but the Transition movement is a vital evolution that brings the relevant urgency of now to the table. It also seems to be more inclusive then a guild ever was because one doesn't have to be a member of the Perma-Cult, as it were (people familiar with Permaculture) and is therefore more accessible to average citizens interested in building community for the post carbon age.
Can permaculture gain by extending its reach into the political system? What strategies would be worth trying?
Sure, yes I think having people familiar with the Permaculture principles in high places in our political system is a good idea. I like that Transition is going at it both ways, from the ground up as a grass roots movement and from the top down from political offices. That way we can meet in the middle, for a non political party.
What is sacred to you?
The whole enchilada, my life, my breath, my family, the earth and all her creatures, the sun, the moon and the stars and all their creatures.
What songs, poems, symbols and/or Heroes come to mind when you think about permaculture mythology?
Mother Earth, George Washington Carver, Gandhi, Ruth Stout, Steven Biko, Rumi, Lewis Carol, Alan Chadwick, A.A. Milne, Kenneth Patchen (poem below)
"Permaculture is a design system that reconciles human communities with the ecological imperatives of a living planet."
- Ben Haggard
"The Gardener does not create the Garden. The Garden creates the Gardener."
- Alan Chadwick
"We are the living links in a life force that moves and plays through and around us, binding the deepest soils with the farthest stars"
- Alan Chadwick
many a hand has scaled the grand old face of the plateau
some belong to strangers and some to folks you know
holy ghosts and talk show hosts are planted in the sand
to beautify the foothills and shake the many hands
there's nothing on the top but a bucket and a mop
and an illustrated book about birds
you see a lot up there but don't be scared
who needs action when you got words
when you're finished with the mop then you can stop
and look at what you've done
the plateau's clean, no dirt to be seen
and the work it took was fun
well the many hands began to scan around for the next plateau
some said it was greenland and some say mexico
others decided in was nowhere except for where they stood
but those were all just guesses, wouldn't help you if they could
* * * * * * *
Bio -
Ken Foster is a native of Santa Cruz, California. He was born in the fifties and raised by Quaker parents. In 1985 Ken was an apprentice at the U.C. Santa Cruz Farm and Garden and has a certificate in Ecological Horticulture from there. Ken also has an A.S. degree in horticulture from Cabrillo College. Ken is a landscape contractor, a certified permaculture designer and the owner of Terra Nova Ecological Landscaping since 1988.
Ken lectures and gives power point presentations on a range of topics relating to sustainable landscaping including Fossil Free Landscaping™, sustainable design, hardscape and softscape installation and maintenance. He served on the Board of Directors of the Ecological Farming Association for ten years and currently serves on the planning committee for the Ecological Farming Conference. Ken has been a member of the Ecological Landscaping Association for twelve years and spearheaded the effort to bring E.L.A. to the west coast over the last few years. Ken is single and lives in Santa Cruz with his chickens, cats, worms and bees at his permaculture demonstration home site.
Connections -
Ken Foster
ken @ terranovalandscaping.com
Terra Nova Ecological Landscaping
* * * * * * *
Join Willi's Facebook Scene @ openmythsource