Green Building Information Modeling (BIM): The Planetshifter.com Interview with EcoDomus.com Co-founder and President Igor Starkov
Submitted by Willi Paul on Mon, 05/03/2010 - 09:01
Axis:Image: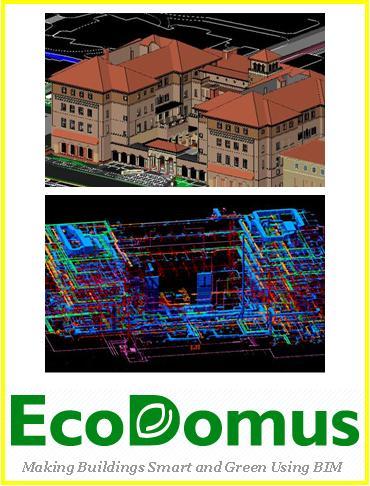 Green Building Information Modeling (BIM): The Planetshifter.com Interview with EcoDomus.com Co-founder and President Igor Starkov
" Using EcoDomus it's much easier for the average facilities manager to find items within the building (i.e. which valve to use to stop the leaking water pipe on the 3rd floor – you can trace in 3D the whole system; or select an item in 3D and see its design intent value and what a building sensor is telling about this piece of equipment at this moment and when the last inspection was performed)."
What is 3D COBIE-compliant BIM software? Is this complicated to run for the average facilities manager or building owner?
Building Information Modeling (BIM) is the process of generating and managing building data during its life cycle. Building information modeling covers geometry, spatial relationships, light analysis, geographic information, quantities and properties of building components (for example manufacturers' details). BIM can be used to demonstrate the entire building life cycle, including the processes of construction and facility operation. Quantities and shared properties of materials can be extracted easily. Scopes of work can be isolated and defined. Systems, assemblies and sequences can be shown in a relative scale with the entire facility or group of facilities.
About COBIE: Today, most construction contracts require the handover of paper documents containing equipment lists, product data sheets, warranties, spare part lists, preventive maintenance schedules, and other information. This information is essential to support the operations, maintenance, and the management of the facilities assets by the owner and/or property manager. Gathering this information at the end of the job, today's standard practice, is expensive, since most of the information has to be recreated from information created earlier. COBIE simplifies the work required to capture and record project handover data. The COBIE approach is to enter the digital data as it is created during design, construction, and commissioning. Designers provide floor, space, and equipment layouts. Contractors provide make, model, and serial numbers of installed equipment. Much of the data provided by contractors comes directly from product manufacturers who can also participate in COBIE. COBIE data is created by designers and expanded by contractors using a variety of software solutions (BIM). On the O&M side, several Computerized Maintenance Management Systems (CMMS) have implemented direct import of COBIE information.
How does your product monitor and validate LEED compliance?
LEED is moving towards performance data tracking (from design intent only as before), so figuring out why a building is not performing as it was supposed to perform is impossible if a user can't compare design vs. actual performance system-by-system, zone-by-zone, etc. That's what EcoDomus provides: ability to see all information in one place – design data, operational data, maintenance data.
How do assess and place sensors and controls in an existing building? A new green project?
EcoDomus does not place sensors in an existing buildings. We leave that to our partners specializing in building systems integration (Honeywell, Johnson Controls, smaller vendors, etc). We provide integration and analytics software. We need sensors to be in a building for energy analysis, but even without sensors EcoDomus provides value by allowing to track assets digitally and have as-built docs for future renovation purposes.
What sustainability certifications do you have at EcoDomus?
None yet. We're only a few months old.
What is a smart building? A smart grid?
A smart building is the one that has a complete Building Information Model (BIM) plus sensors infrastructure and corresponding software solutions and a trained facility manager.
Smart Grid is the intelligent network of utility providers, mediators (demand/response integrators) and end users (building owners) where decisions on energy use are made based on smart data. EcoDomus helps dealing with "The Last Mile" in the Smart Grid – building information, helping identify which zones and equipment provide the best response to Smart Grid's demands.
Who is your competition?
Software analytics packages for Building Automation Systems data, Energy Dashboard companies, some facility management software companies.
Are you fully funded and staffed? Tell us about the business plan!
We're self funded and currently looking around, open to receive funding proposals if they're reasonable. We have clients (large campus owners: universities and government agencies) so EcoDomus is growing.
* * * * * * *
Igor Starkov Bio -
Mr. Starkov has sixteen years of international business management experience in information technology, systems integration, computer distribution, software development, and consulting companies in Northern America and Eastern Europe. His background includes the successful launch of several start-up ventures.
He co-founded EcoDomus, Inc. in early 2010 and is responsible for operations, including software development, sales & marketing, and partnerships. EcoDomus focuses on improving management and energy performance of commercial buildings.
He founded (in 2008) and serves as President at Tokmo Solutions (Reston, VA), where he oversaw market development, sales prospecting, and established relationship with partners and vendors. Latista Technologies provides advanced construction field administration software solutions for contractors.
He co-founded (in 2001) and served as Director of Business Development at Latista Technologies (Reston, VA), where he oversaw market development, sales prospecting, and established relationship with partners and vendors. Latista Technologies provides advanced construction field administration software solutions for contractors.
He has served as a project manager for BRTRC, Inc., a government contractor, where he managed several software development and consulting projects for the U.S. Army.
He co-founded and managed the St. Petersburg branch of the Moscow-based TEREM Group from 1994 to 1998. The TEREM Group is a holding company of IT, computer distribution, and printing companies.
Mr. Starkov started his career as a sales representative, and later as a Macintosh solutions expert, for Apple Computer's Moscow office in 1992.
Mr. Starkov is a graduate of the Department of Applied Mathematics and Computer Sciences of Moscow University and holds an Executive MBA degree from the McDonough School of Business at Georgetown University in Washington D.C.
* * * * * * *
Connections –
Igor Starkov
Co-founder and President
EcoDomus.com
571-277-6617