Green to Gold: Interview with Sally Dehm, Sr. Account Executive & PR Strategist, PENMAN Public Relations by Willi Paul, PlanetShifter.com
Submitted by Willi Paul on Thu, 04/01/2010 - 08:43
Axis:Image: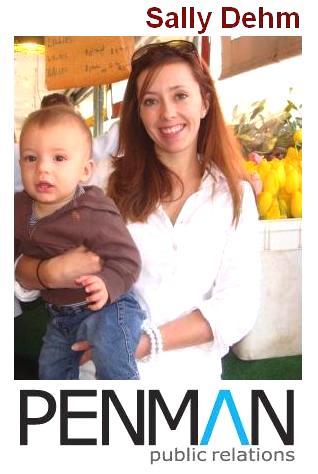 Green to Gold: Interview with Sally Dehm, Sr. Account Executive & PR Strategist, PENMAN Public Relations by Willi Paul, PlanetShifter.com
"Getting the right message to the right people in the right place at the right time." PENMAN
How do you define sustainability?
Sustainability = responsibility, period. I'm fed up with the 'it's not my job' kind of attitude so many people have these days and I'm confident that I'm not the only one. This lack of responsibility and attitude of entitlement has permeated everything in our society from corporations and the environment all the way down to parenting and relationships. We're entitled to nothing in this life. Not food, not water, not even a roof over our heads. Everything we have belongs to the planet we inhabit (notice I said inhabit, not own).
That makes it a gift. That makes it special. I'm not advocating for anyone to stop bathing and brushing their teeth to save water but I do think that everyone started out doing just a little it would make a big difference. We have to start somewhere. After all, it's the little things that give people the confidence to do the big things!
Your firm has clients in the sustainability and nano tech sectors. What are the differentiators for these campaigns?
We lead the pr campaign but follow the client so it really depends on what their business objectives are. Everything we do maps back to business objectives. Most campaigns have end up needing a combination of traditional and non-traditional media. One thing that has worked well in the sustainability area is social media. This is primarily because most of our green clients are B2C. Social media works really well with B2C and a large percentage of the sustainability/green audience is engaged in social media already so it's easy to connect with them. We've had great success in promoting our nano clients through grass-roots efforts like blogs and online publications.
What are your new green routines at home and work?
We have an 18 month old son and we're teaching him to recycle and to tend his own little garden. He loves to put things into the recycling bin but sometimes gets them out later and we find them around the house. If that's not a case for rinsing your recyclables before you put them in the bin I don't know what is! He loves to play in the dirt so we planted him a little herb garden and explained to him that herbs are food. He got a bit too excited last weekend and pulled up a few plants and tried to eat them, so I'm not sure we're quite there yet on the gardening but we're working on it.
I ride my bike to work!!
Our CEO, Patti Hill offices really close by so I just hop on my bike and head over. I make a point to run any errand I can on my bike and try to do so on my lunch break. Although I do have to admit I've been known to overestimate the amount of groceries I can fit in my backpack only to have to put things back at checkout! It's a lot of fun and I've felt so much more connected to my community since the weather has improved and I started riding again. I see the same friendly people every day and it makes me feel like I live in this wonderful small town even though I live in the city. I don't feel like I'm part of the rat race when I'm on my bike.
What makes you excited about the Grunig tool kit?
Willi I'm not a by the book type of gal but I've always been a supporter of Grunig. However, I didn't find the latest book as enchanting because at Penman we've been running our campaigns with a strategic focus for the past ten years. I don't think the Grunig tool kit is the magic formula for being successful in public relations because I don't think there is one. You either get it or you don't. It's my job to sell my clients to the media which also means it's my job to be prompt, courteous and well-versed in their industry. It's my job to know when to push and when to pull back. It's my job to build relationships.
It's my job to be the best salesperson my client has and to be their champion. Penman is an industry agnostic pr firm so it's really important that we approach each new client relationship with a blank slate and a completely open mind. Yes we have case studies and experience to draw on but just because something has worked in the past doesn't mean it will work again. Public relations is a field that is constantly changing and I'd like to think that is thanks in part to our clients who are always inspiring us to innovate our practice and develop our individual talents.
How do you find the branding nuggets in the chaos of a start-up firm?
This may sound crazy but I love working with start-ups because of the roller coaster of emotions that come with starting a business. One minute you're on top of the world, the next you've hit rock bottom. I think the energy and excitement that comes from the good times is so incredibly powerful. When people are on top of the world they're much more open to ideas that they normally wouldn't be so it's my job to take full advantage of that energy and excitement.
I do this by encouraging the chaos and pushing my clients to put all their ideas out there. More often than not the best branding is developed from a combination of crazy ideas that have been shared amongst the participants than from the neatly organized thoughts of one person. The campaign begins with branding and is my favorite part because it's a really fun, high paced process. I look forward to it with each new client!
How do you leverage your banking experience at Penman?
While I was in banking I oversaw marketing, PR and sales efforts for a huge territory. This taught me how to manage my time and multitask like you wouldn't believe. I had to rely heavily on my intuition to tell me what activities and which clients were a good use of my time and which ones weren't. External public relations is the same in that respect. You have to be really careful about how and with whom you spend your time. I'm really grateful to have had the opportunity to nurture this skill while I was in banking. It's benefited my clients at Penman because I know I'm making the best use of the time they're paying for.
Who would make a more interesting client: Green Peace International or Corporate Accountability International?
I would definitely choose Corporate Accountability International. I love the difference they are making but hate that few people in the mainstream have heard of them. Green Peace doesn't need me because everyone knows who they are. I love business and enjoy learning about corporations and how they run. Not all big corporations are evil death machines run by robots in suits, and I know this because I've worked for some really great ones. It should be important to everyone to know which corporations are conducting business as usual and which ones are abusing the power that we've lent them. We both know that a lot of people in our country believe everything they see on TV and read in the newspaper (scary!). If you take that into consideration I can't think of an organization that needs public relations more than Corporate Accountability International.
The challenge is that worst corporations have the best pr departments so in the end it's really pr versus pr, good versus evil. Just the thought of that makes me so incredibly grateful to be working for a small firm with high ideals. I know I'll never have to compromise my beliefs in order to keep my job.
* * * * * * *
Sally Dehm Bio -
There are few sales and marketing professionals who have the skills, creativity, and integrity to truly help organizations meet their marketing, sales, and business development goals. Sally Dehm is one of them. With energy and passion, Sally has a deep understanding of the intrinsically entwined disciplines of sales and public relations and how to use them to her clients' benefit.
Prior to joining Penman, Sally held a senior-level position at an AAA rated financial institution where she took responsibility for new sales, marketing and public relations for sixty locations across various business lines including Business Banking, Regional Commercial Banking Offices (RCBO), Wealth Management, Private Banking and Consumer Banking. In five years, Sally successfully transformed her business line from obscurity to one of prominence. She has received numerous organizational awards and accolades, and the marketing and public relations strategies she pioneered are now standard nationwide.
Sally has a wealth of knowledge in a myriad of industries including finance, politics, accounting, insurance and non-profit. She is currently a member of the board of directors for the Friends of St. Jude Children's Hospital, Austin Chapter.
Connections -
Sally Dehm, Sr. Account Executive & PR Strategist
PENMAN Public Relations
Austin, TX
sally at penmanpr dot com
512.799.4468