A Visit to the Green Leaf Inn: Interview with Fritz Kreiss, Sustainable Learning Center and Green Power Development, LLC, by Willi Paul
Submitted by Willi Paul on Mon, 03/29/2010 - 13:12
Axis:Image: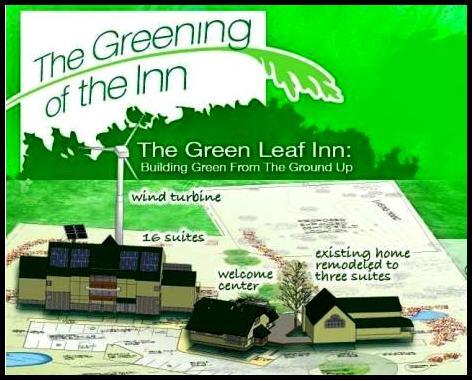 A Visit to the Green Leaf Inn: Interview with Fritz Kreiss, EcoVision Sustainable Learning Center and Green Power Development, LLC, by Willi Paul
I've trying to live and work sustainably, leaving a small footprint etc. for most of my life. So much so that we don't produce enough compost for our garden needs and put only a 5-10 liter bag of rubbish out for weekly collection.
Despite this long commitment, it was not until I saw the documentary, 'Waste = food', featuring William Macdonough and Michael Braungart in 2006 that I recognized the underlying principle that everyone needs to know and assimilate to solve our worldwide mountainous waste problem. Their ideas are now available in the book, "Cradle to cradle'. There is also a LinkedIn group of the same name.
Briefly described, things should be made compostable so that there is less need for recycling and the cost and results of recycling should be very carefully considered. I would add that, as much of the worlds agricultural soils are badly depleted of nutrients and so also the food produced from them, this would be a wonderfully simple solution to maintain soil fertility and, consequently, human health.
This vision also offered the solution to some doubts I have about recycling. For example, I find the results of many recycled materials are unnecessary consumer products that are also badly designed - why bother?
* * * * * * *
What are the foundation values and principles of the new The Eco-Vision Sustainable Learning Center?
The Eco-Vision Sustainable Learning Center is a nonprofit organization that promotes renewable energy, energy efficiency, green building and sustainable living through education and demonstration. Our goals are to promote and develop scalable solutions for renewable energy and sustainable development, support renewable energy projects though the purchase of Renewable Energy Credits (RECs), and, as a community, find new ways and build new models to make renewable energy, energy efficiency, green building and sustainable living an integral part of American life.
As part of our educational development, we are hosting Ecofair360 this summer near Lake Geneva, WI July 16-18 with hundreds of exhibitors and over 150 workshops on everything from bee keeping to converting a car to electric to building green and installing a wind turbine. We are even giving away a 1kw solar electric system in our sweepstakes. People can register online at the website.
How do you define sustainability?
I would define sustainability as a cycle that is continuously being replenished to all parties in how anything was used and how we prepared for it to be replenished. Stewardship? Being a good steward to me means different things depending on if it is planet, animal or people focused but basically walk lightly in the world and try to more good then harm in all of our interactions.
What green building standards are driving the Green Leaf Inn in Delavan, Wisconsin. (The Inn, which will be the first purpose-built "all-green" bed and breakfast in the Midwest)
The Green Leaf Inn is designed to be an upscale romantic getaway with beautiful gardens, two person hot tubs but all done on a sustainable basis. Our 50kw wind turbine has been installed and the dual axis tracking solar electric system will be next before the building can begin. We will included more solar electric on the roof, a small combined heat and power system, geothermal, biomass gasifier boiler, two different solar thermal systems, rain water capture and reuse and many other technologies we want to demonstrate. Of course the building envelope will be tight and insulated, recycled and sustainable products for the building. We will have all of the systems available online as a teaching tool for schools and educators. People will be able to follow along as we go through this entire project at The Green Leaf Inn.
What models for the EcoFair360 did you seek-out as you designed this 3 day event?
We looked at the Green Festivals, Renewable Energy Fairs around the Midwest and even the Walworth County Fair which is the largest in the state of WI. We looked at what we liked best and our organizations goals which meant education and workshops- a lot of them- were a main focus covering fun and interesting sustainable and renewable subjects of various levels including fair trade, social justice, renewable energy, green building, and transportation. When we looked at the fairs or green exhibits that had a bunch of exhibits but not a large volume of workshops, we noticed people went to the event, walked around, ate something and then left. We wanted to help create a community of people interested in southern WI and northern IL (and hopefully farther) and an event that people were interested in hanging around all day and excited to come back the next day. Come for the learning but leave with new friends. At the end of the day, relax with a glass of wine and some blues music. We also are very focused on the economic benefit for the local market and will be expanding opportunities for all the local businesses, even if they are not green but want to support green.
What's up with your 19.6 mw solar farm in NJ?
NJ is strongly supporting solar with a renewable portfolio standard with a large solar carve out and penalties if the utilities don't meet them. This has created a good market for the solar RECs within NJ that will allow the non-utility development of solar with a scale that will create a bunch of good jobs, environmental benefits, and cost reduction. We will be utilizing 6 ft tall screws that go in the ground to created the foundation for the racks for the solar panels (88,000 of them) so that in 30 years, everything can be removed and the land is back to a farm. NJ legislature actually made solar a farm product to help in solar development. Under and around all of the panels we will be growing clover. Next hurdle is PJM and utility interconnect.
Who are your heroes?
E.F. Schumacher who wrote Small is Beautiful - Economics as if People Mattered and a wide variety of spiritual teachers.
Connections –
Fritz Kreiss
Fritzk at communitygreenenergy dot com
EcoVision Sustainable Learning Center
Green Power Development, LLC
EcoFair360