Five Easy Questions for Ruta Stabina, Sustainability Leadership Program Coordinator - The University of Oregon
Submitted by Willi Paul on Sat, 12/19/2009 - 10:05
Axis:Image: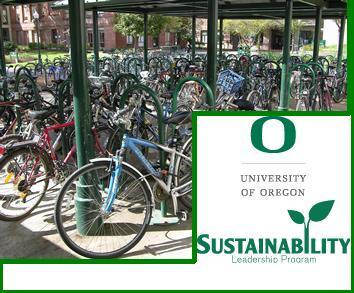 Five Easy Questions for Ruta Stabina, Sustainability Leadership Program Coordinator - The University of Oregon
About Sustainability Leadership at UOregon.edu
"The Sustainability Leadership Program was launched in 2003 and during this time it has served nearly 750 people from over 400 organizations. Our participants come from a variety of professional backgrounds and represent a broad range of industries including government agencies, private businesses, non-profit organizations, educational institutions, and other sectors.
Since the early 1990's, hundreds of private, public, and community-based sustainable development initiatives have blossomed across the globe. Executive Orders by the Governors of Oregon and Washington, and actions by local governments and an increasing number of private companies, have made sustainable development a common element of today's regional public dialogue.
You may be familiar with The Natural Step, Eco-Effectiveness, Zero Waste and other frameworks that describe the problems with our current economic systems and the principles necessary to achieve sustainability. The education seminars offered through the Sustainability Leadership Program are built upon these frameworks by providing the understanding as well as the tools and techniques needed for putting sustainability into practice.
In most public and private organizations, the successful adoption of sustainability measures requires changes in both operations and culture. Each of these changes requires a systems perspective. Altering operations involves broadened awareness of how physical systems function as well as technical skills and knowledge in a variety of specialized fields. Transforming culture requires an understanding of the social systems of concern, exemplary leadership, improved governance, and a clear understanding of the tools and techniques of organizational diagnosis and change. These are the foundational themes of this seminar series. Each seminar will begin with an overview of basic theories and principles of sustainable development. Each seminar will then focus on specific, practical tools and methods of moving an organization toward sustainability."
1. What is the certificate in the UO Sustainability Leadership Program really worth? How do you measure this?
Value of the University of Oregon Sustainability Leadership Program (SLP) certificate is different for different groups. To better illustrate, below is the enrollment trend table for the past few academic years. Estimated break down:
Types of Organizations
State governments, Cities, Counties,
Utilities, Educational institutions:
75% (06-07) …. 70% (07-08) …. 20% (08-09)
Businesses, Manufacturing, Financial institutions,
Consulting firms, Healthcare, Hospitality, Food:
15% (06-07) …. 20% (07-08) ….50% (08-09)
NGOs, Arts & Cultural Organizations,
Private individuals, Students, other:
10% (06-07) ….10% (07-08) ….30% (08-09)
Here are just a few examples of the Certificate value, besides acquiring knowledge:
Private individuals (currently employed or in transition) - a resume boost, additional credentials for graduate school entry, personal enrichment;

Consultants (affiliated with an agency or individual) - ability to better help clients, broaden the client base due to deeper understanding of issues;

Businesses (big and small) - launching or expanding sustainability initiatives, improving operations, developing more comprehensive reporting methods, reaching out to new customers by demonstrating sustainable practices;

Government organizations - launching or expanding sustainability initiatives internally and in communities, developing policies, creating highly-functional public-private partnerships;

Academic credit - students from various universities supplement their studies with our workshops as electives (academic credit option is made possible as a result of partnership with the UO School of Architecture and Allied Arts).
The SLP Certificate measurement of success is the number of participants going through the program and the organizations they represent. A good illustration is the list of certificate recipients from the last academic year - those are representatives of business community, variety of government entities (local and federal), Non-profits, consultants, private individuals, students, and others.
Our participants comment regularly how much they appreciate the program and its hands-on approach, and how these workshops have helped them grow in their positions. Check out the Testimonials.
2. Has your attendee pattern changed significantly recently?
The attendance patterns are changing from year to year and the SLP adjusts its content accordingly. Every year we add new topics based on the latest trends and participant requests, and cycle out or redesign the ones that have become less applicable.
3. What is an action-learning workshop? What theory under pins this approach?
All SLP workshops are of applied nature - very hands-on and tools-oriented, usually consisting of a combination of lecture, discussions, guest speaker presentations, and several individual and/or group exercises as well as case studies and project examples. In every workshop participants receive a set of practical tools, resources, action items to start implementing at their work places tomorrow - starting with the low-hanging fruit and working their way up.
Theory: In many communities, and here in the Pacific Northwest especially, we are past the stage of inspirational talks, people and organizations are ready for more action and area already making a lot of difference and need tools to help move their efforts ahead.
4. What values and principles are key to your courses? Are there conflicts between instructors and students in how they define and actionize sustainability values?
SLP Mission Statement:
The Sustainability Leadership Program (SLP) provides practitioners with a theoretical foundation and practical tools for leading organizations, communities, and individuals to develop sustainable living and working environments.
Drawing on the unique academic resources at the University of Oregon, SLP delivers educational programs that bring together representatives form local, national, and international communities, governments, businesses, non-profits, and educational institutions.
Conflicts? No - there are no conflicts. There are productive, constructive discussions and idea exchanges, but everyone is on the same page.
5. In brief, how does your program define sustainability?
We do not have a custom-designed definition, but the most often used is this: "Meeting the needs of current generations without compromising the ability of future generations to meet their own needs."
About Ruta -
Stabina has 20 years of experience in designing and executing educational programs. For the past 5 years, after finishing her graduate studies at the University of Oregon, Ruta has been in charge of the UO Sustainability Leadership Program, a certificate program consisting of a series of workshops on sustainability practices. Ruta holds undergraduate and advanced degrees in Fine Arts, Teaching, and Applied Information Management. Her other passions include adventure travel, photography, art, local cultures, languages, gardening, and many others.
Connections –
Ruta Stabina, Coordinator
Sustainability Leadership Program
University of Oregon in Portland, Continuing Education
White Stag Block, 70 NW Couch Street, Suite 148
Portland, OR 97209
Rstabina at uoregon dot edu
(800) 824-2714