Sun Ra
Submitted by Willi Paul on Sun, 01/25/2009 - 11:44
in
Axis:Image: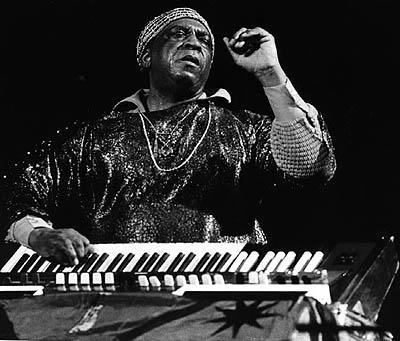 Sun Ra
http://www.furious.com/perfect/sunra.html
http://www.elrarecords.com/
YouTube Video: http://www.youtube.com/watch?v=djBKQNVj5Cc&feature=related
The Differences
Sometimes in the amazing ignorance
I hear things and see things
I never knew I saw and heard before
Sometimes in the ignorance
I feel the meaning
Invincible invisible wisdom,
And I commune with intuitive instinct
With the force that made life be
And since it made life be
It is greater than life
And since it let extinction be
It is greater than extinction.
I commune with feelings more than prayer
For there is nothing else to ask for
That companionship is
And it is superior to any other is.
Sometimes in my amazing ignorance
Others see me only as they care to see
I am to them as they think
According the standard I should not be
And that is the difference between I and them
Because I see them as they are to is
And not the seeming isness of the was.
-- Sun Ra
TEXT FROM A 1989 PRESS KIT BY A&M RECORDS
Eclectic, outrageous, sometimes mystifying but always imbued with a powerful jazz consciousness, the music of Sun Ra has withstood its skeptics and detractors for nearly three generations. And well it should, since Sun Ra has been both apart of and ahead of the jazz tradition during that time. Like Duke Ellington and swing-era pioneer Fletcher Henderson, Sun Ra learned early on to write music in an arranged form that showcased the specific talents of his individual Arkestra members, and he has retained the services of some of these musicians to this day: John Gilmore, Marshall Allen, and Julian Priester for example since they first joined in the 1950's. On the other hand, Sun Ra was the first jazz musician to perform on electronic keyboards (56), the first to pursue full-scale collective improvisation in a big band setting, and his preoccupation with space travel as a compositional subject predated bands like Weather Report by about 15 years.All this from someone who refuses to even cite the earth as his home planet and prefers to have arrived from Saturn. As Sun Ra once explained it, "I never wanted to be a part of planet Earth, but I am compelled to be here, so anything I do for this planet is because the Master-Creator of the Universe is making me do it. I am of another dimension. I am on this planet because people need me".
Equally as mystifying is the fact that Sun Ra has no legal birth certificate. The Library of Congress claims that he arrived in Alabama, U.S.A., and his passport states that his legal name is Le Sony'r Ra, thus making all other names such as Sonny Lee, Sunni Bhlount, Armand Ra, and H. Sonne Bhlount merely pseudonyms.
In the 1940's Sun Ra became the house arranger for stage shows at the famous Chicago night spot, the Club DeLisa and played for the band led by Fletcher Henderson. Henderson was the arranger for the Benny Goodman Orquestra as well as his own and was a great inspiration to Ra who encouraged him to continue writing. In the early 50's, Ra's more radical compositions and arrangements found their way into his own groups which featured exotic costumes and unusual instruments.
By 1955 while in Chicago, Le Sony'r Ra had become "Le Sun Ra" or Sun Ra, leader of the Solar Arkestra which has also been known by many other names such as the Myth-Science Arkestra, the Solar Myth Arkestra, and the Omniverse Arkestra. In addition to saxophonists Gilmore and Allen, the band boasted a number of musicians who have contributed much to jazz, including bassist Richard Davis, trombonist Julian Priester, drummer Clifford Jarvis, and reedman James Spaulding. The Arkestra itself started as what was thought to be a hard-bop big band at the Grand Terrace and Birdland night clubs - a rare enough item - but soon was incorporating free improvisation. As such, it was a major influence on the emerging avant-garde jazz musicians in Chicago, such as Muhal Richard Abrams, Henry Threadgill, and the Art Ensemble of Chicago.
From its inception, the Arkestra's music was infused with Sun Ra's unique philosophy, an unexpected hybrid of space-age science fiction and ancient Egyptian cosmo religious trappings. This philosophy gained a visual manifestation in the colorful robes, mock-metallic capes, and space headgear worn by the band (it's the only jazz orchestra that brings a tailor on tour), and in a stage presentation that usually features several dancers, a number of group chants ("We travel the spaceways/From planet to planet"), and at least one instance of the entire band juking its way, single-file, through the audience.
In 1960, Sun Ra moved his earthbound base of operations to New York, then in 1968 settled in Philadelphia. In both cities, as in Chicago, the band lived and worked as a sort of collective, with the hard-core nucleus sharing living quarters with the leader and assuming the role of cosmo-friends to the master. Throughout the 60's Sun Ra continued to record for his own deliberately poorly distributed Saturn Records label, and also on various European labels, while touring widely and continuing to spread the fame of his live performances. In recent years Sun Ra has steadily returned to the music of the near past - the standards and jazz classics he grew up with - although it is all filtered through his delighfully off center perspective.
In an interview with Jazziz magazine, Sun Ra recalled, "They really thought I was some kind of kook with all my talk about outer space and the planets. I'm still talking about it, but governments are spending billions of dollars to go to Venus, Mars, and other planets, so it's no longer kooky to talk about space". For Sun Ra, though, it has never been a matter of mere oddness. When he talks of his Saturnian origins, of observing the planets and travelling the spaceways, and of "going into space", it is really a lavishly elaborated metaphor, or so it seems to those who are not aware of the spiritual side of things. Sun Ra's music transcends earthbound limitations by riding the flights of imagination, and his message is that all of us are free to ride those flights with him if we have the precision and discipline to do so.
Sun Ra and his Intergalactic Harmonies
by Scott McFarland (February 1997)
Sun Ra was born on the planet Saturn, ages ago, and spent some time on Earth using the power of music to demonstrate the virtues of discipline and harmony to members of this planet. Or, if you prefer a more straightforward approach to your musical biographies, Sun Ra was born Herman P. Blount in Birmingham, Alabama in 1914. Whichever way you choose to look at matters, some things are not in doubt : Sun Ra arrived on this planet via Birmingham on May 22, 1914, left this planet on May 30, 1993, and spent the majority of his time here working with groups of musicians to leave behind an amazingly large, diverse, diffuse, and beautiful catalogue of recordings and live performances the likes of which has never been seen before.
It is impossible, given the breadth and depth of Ra's work, as well as the fact that most of the albums which he recorded are out-of-print and owned only by a select few collectors, to attempt to trace Ra's career with any thoroughness in less than a hundred pages or so. I'll attempt here to provide some overview to Sun Ra's life as well as providing my own opinion and perspective on some of the Sun Ra titles currently in print.
Ra played piano in jazz bands (in Birmingham - known as "The Magic City") while in high school. He worked in Alabama clubs under the name "Sonny Lee" and worked with the leading swing bands in the state. There are no existing recordings of Ra (not yet found in this galaxy, anyway) up until a Herman "Sonny" Blount was recorded in 1946 playing piano on two singles recorded for the Bullet Label by singer Wynonie Harris. In 1946 Ra made a move up to Chicago, where he went on to work with Fletcher Henderson and with Red Saunders. He also did some playing with Coleman Hawkins and with jazz violinist Stuff Smith; an eerie and worthwhile duet between Ra and Smith did survive and is available on Evidence's reissue of the Sound Sun Pleasure!! collection (the track "Deep Purple," thought by some to date back to 1948 or 1949).
Ra formed his own band at some point in this time frame, and accompanied singers and instrumentalists as well as providing the occasional background bump and grind for strippers (later memorialized in the Space is the Place film). Ra worked on his music, and began to add members to his band, for the next few years. In 1952 he underwent what has been referred to as a spiritual crisis, and legally changed his name to Le Sony'r Ra. Meanwhile, he continued to arrange and play on Red Saunders' recordings as well as those of some other artists. Three brilliant horn players who would contribute greatly to Ra's music came out of the Army and into Ra's "Arkestra" - John Gilmore (a major influence on John Coltrane, and a classic tenor saxophone player) in 1953, Marshall Allen (capable of crazed alto saxophone as intense as any other from this earthly sphere, and a very flexible player who played a number of instruments for Ra [including much lovely flute] and played them well) in 1954, and Pat Patrick (whose baritone sax was a primary color in the tonal palette of the Arkestra) also in 1954. Ra woodshedded his Arkestra while also working with some vocal and doo-wop groups who recorded on the new Saturn label run by Alton Abraham in some confluence with his friend Sun Ra - after decades of obscurity and unavailability these recordings have been released by Evidence, along with the other non-LP Saturn singles released between 1955 and 1982, on the 2-CD collection The Singles which you can find filed under Sun Ra in hipper record stores everywhere.
The Arkestra began to record LPs worth of material, in Chicago, circa 1955. Their earlier efforts from approximately 1955 - 1958 are wonderful big-band music with a fascinating tonal palette being provided by players such as the three saxophonists mentioned above, Robert Barry, Julian Priester, James Spaulding, Phil Cohran, Hobart Dotson, John Hardy ... and a rotating cast of other Chicago musicians. Quite frankly I think that it's the next step in big-band music post-Ellington, and maybe the penultimate step. Ra utilizes "exotic" instrumentation such as tympani, bells, and percussion in what has to be called a brilliant way, with saxes, trumpets, flutes, and Ra's own fractured and always creative piano playing meshing into a perfect, smooth, and lovely conception. Each LP could be seen as a different session or small-scale gig - the tunes from this time period tend to turn up on more than one release, frequently in radically differing arrangements. Ra does the bulk of the writing and arranging (although as with the Arkestra throughout the years, the occasional tune by someone such as Julian Priester or Ronnie Boykins will turn up just as you least expect it). Of these more traditional early efforts, my favorites are probably the 1958 Jazz in Silhouette (exotic, but with two feet in traditional big band sound - a smooth album with moments of genuine adventure) and the transitional Supersonic Jazz reputedly recorded in late 1956 (lots of great big-band material and some more impressionistic and transitional pieces, too - the Arkestra excelling in traditional and non-traditional genres). There are plenty of other titles in print from this time period too, all worthwhile - Sound Sun Pleasure, Sun Song, Sound of Joy, Angels and Demons at Play, and We Travel the Spaceways to name a few.
Ra and his Arkestra's golden age in Chicago continued for the next few years. I hear them as making an even bolder leap during this time frame, moving away from some of the traditionalism at their base and into something different and stronger. Their broad tonal palette within the music remains, while the rhythmic undertow becomes more global and trance-like. An excellent release to hear the change on, and an excellent disc overall, is the 2-fer Evidence issue of Sun Ra Visits Planet Earth and Interstellar Low Ways. Side 1 of Visits is fairly typical, if beautiful, big-band jazz arrangement. Side 2 of this LP, recorded a year or so later in 1957 or 1958, features three tracks which are still jazz - but with amazing arrangements and playing which make room for Ra's piano to take us on other- world journeys, and for the tympani & drums & occasional other percussion to facilitate the trip. Low Ways continues the sense of adventure and interstellar drama fuelled by classic arrangements; it's a great LP with numerous highlights. Other excellent LPs in print which I would describe as from this "era" would be The Nubians of Plutonia (a percussion-oriented journey which influenced Coltrane travelogues [by way of "Exotica" and Dizzy Gillespie] such as "Africa" and "India" - paired on a 2-fer with the also worthwhile Angels & Demons at Play), and Fate In a Pleasant Mood (an immensely impressive collection of 7 tracks - on another 2-fer).
I know that with a "far out" artist such as Ra, much of the potential listenership is interested in seeing exactly how "far out" artist went, and would want to hear later, more bizarre works as a sample of Ra's work before searching out music recorded from as far back as the 50's. But in this case that would be a mistake. Ra's Chicago period is probably his golden age, and the music is indisputably great and beautiful. As impressive as Sun Ra's legacy continued to be after this time frame, it never got any better than this - this is music which must be heard. And, the later works gain significance when viewed in the context of all the lovely music which Ra had already made.
It should be noted that Ra was working on a small scale. He was interested in effecting change in people on a local level, and mistrustful of record companies. Hence most of his LPs were recorded for Saturn, distributed in editions of hundreds rather than hundreds of thousands, given hand-painted covers in many cases, and only heard generally by a small coterie of fans. As a result, artists such as John Coltrane who were perceived as innovators went on to become canonized and lionized while Sun Ra continued to work in obscurity. Only with the series of Evidence reissues has most of Ra's 50's music come into wide-scale distribution; the aptly named label has distributed the majority of Ra's LPs from the Chicago years. Unfortunately, much of the Ra catalogue from this point forward is not in issue (and may not be for some time to come - after his death, due to the lack of a will Ra's estate became the property of his earthly family rather than of the Arkestra - there is some uncertainty as to legal and practical ownership of the estate). Still, a lot of titles are in print.
Sometime in 1961 the Arkestra, or at least Ra and several key members (Gilmore, Allen, Ronnie Boykins) left Chicago. They stayed in Montreal for a few months, and then went to New York. Here they settled, garnered new members, and recorded lots of music. The first LP from this era is the Futuristic Sounds of Sun Ra release (also released on LP as We Are In The Future) available on Savoy. It's interesting, strange, atmospheric stuff but I wouldn't put it on par with what had been going on in Chicago. The Arkestra had shrunk considerably and now gave off more of a chamber music be-bop vibe rather than a big band feel. Bad and Beautiful and Holiday For Soul Dance also feature a stripped-down sound. Art Forms of Dimensions Tomorrow, recorded in 1961 and 1962, has some of the first recordings to aim in a new direction. The Arkestra were experimenting with reverb and echo as well as with percussion and tonal qualities, and making quite a strange sound. It's very chaotic (Ra had a distinct interest in musical chaos) and full of sci-fi/horror movie atmosphere. Like a soundtrack to the nature of the universe. The first classic in this genre (at least that I have heard) came in 1963 - Cosmic Tones For Mental Therapy. The LP was first issued on Saturn in 1967. It remained pretty much unheard by non-Ra-ites until the recent Evidence reissue. It is quite amazing. Imagine Syd Barrett's Pink Floyd as a collection of jazz musicians and African drummers, playing at their best and - then you start to get the idea. The track "Adventure-Equation" is probably the mother of them all.
Other Planes of There from 1964 is every bit as strange but not as effective. The music was in danger of becoming totally abstract. Circa 1965 the Arkestra began playing wild "free" jazz not unrelated to efforts by Cecil Taylor and Ornette Coleman, and of course a bandwagon that Coltrane also jumped onto. It's not my favorite period - to me the music is difficult to enjoy. Some people really like it, though. The Magic City is one that these people seem to regard as a landmark (recorded in 1965, it came out on Saturn in 1966), with "The Shadow World" an especially interesting if totally abrasive piece. To me this type of music is sociologically interesting, to see the jazz tradition subverted into expressions of such anger or whatever you care to see it as, but I can't get into it as music. I do like When Sun Comes Out, recorded in 1963 when they were starting to play this way, though - it's wild and full of energy and new style but still has some lovely other-worldly vibe to it. It's on a great 2-fer with Fate In A Pleasant Mood.
Ra and the Arkestra continued in this direction. The Heliocentric Worlds of Sun Ra Volumes 1 & 2 (1965) and the live Nothing Is (from 1966 - my copy is called Dancing Shadows) came out on ESP records and thus gained wide-scale distribution, being among the few Ra works heard by the masses for many years. I don't really like them. By 1968 things were still chaotic, but starting to clear out a little - the live Outer Spaceways Incorporated from that year, in print on Black Lion, is a nice combination of melody and "freer" playing.
Ra was soon consolidating jazz, African, soul, and the whole of the Universe into classic recordings like My Brother The Wind Volume 2 (from 1969) which has been described as "spaced-out barbecue jazz" and which sounds to me like a brilliant composer working in the Jimmy Smith/Larry Young style of soul-jazz organ playing. Atlantis from 1967-68 (released in 1969) is generally considered a Ra landmark, and it is. The title track is a lengthy, scary declamation by Ra on organ recorded live which takes up Side 2. Side 1 I think is even better - it contains 4 pieces (5 on the CD reissue) which are arranged and feature Ra on an electric-guitar-sounding Clavoline with some horns and much percussion, and I would describe the sounds of these tracks as being that of Thelonious Monk jamming with some African tribesmen somewhere on the planet Saturn, loosely playing some jazz.
Most of Ra's 70's work is not in print. It's a shame, too, because a lot of it is exceptional. Some titles made for other labels are available although none of the Saturn material from this time frame has been reissued (and apparently the issues surrounding Ra's estate will keep any such reissues from happening in the immediate future). One thing which is available is the film Space is the Place as well as a CD-full of performances taped for the soundtrack in Oakland in 1973 by the Arkestra. The disc is so-so, the music sounds a bit flat. But the film is well worth getting or seeing; it's a (good) blaxploitation-styled effort and an excellent opportunity to hear Ra speak Ra-isms. It's pretty heavy, pretty funny, and nicely done, definitely a good night's viewing.
Most of Ra's 80's material is also not in print. Again, this is a darned shame. Copies of some of the later 80's & 90's work are still either in-print or possible to find, though. I'd especially recommend the 1990 A&M release Purple Night wherein an expanded Arkestra (23 pieces) were captured, in an optimized and clean audio environment, swaying and playing. I think it's maybe the penultimate Ra record, almost like a culmination of his music from the 60's onward; I may be biased though as it's the first Ra record that I purchased. The predecessor on A&M, Blue Delight, has some good stuff on it, and Rounder's Somewhere Else which has scant cover information but consists of other material recorded for those 2 A&M albums, has some fine stuff too.
Ra continued to make music, much of it happier and "straighter" jazz which harked back to his big-band past. The Arkestra continued to tour (it still does so today, with Marshall Allen and James Jacson leading the way, I believe). Ra continued to play until the point, during the Sun Ra Sextet at the Village Vanguard gigs in 1991, at which he could no longer play piano but instead played some synthesizer while Chris Anderson played piano in a very Ra-like fashion (the combination sounds nice, too). And then Ra left our planet, leaving behind a back catalogue of mountains full of music, and an estate in chaos.
I've only scratched the surface on Ra's music. There's a wealth of it - he pumped out LPs as if he were mailing postcards. The complexity of his catalogue and release schedule can best be comprehended by viewing Robert Campbell's excellent discography The Earthly Recordings of Sun Ra, available from Cadence Jazz Books (Cadence Building, Redwood NY, 13697) for a moderate price and well worth seeking out. For more information on Ra and the Arkestra, I have found the liner notes to the Evidence reissues to be an excellent source of information, and there is a forthcoming book about Ra on the way this year from John Szwed. For any parties with e-mail curious enough to join a Sun Ra mailing list, there is a group which discusses Ra daily - to join, just send a message with the line "subscribe saturn" to the address Listserv@nic.surfnet.nl. Of course, the music speaks for itself as well. After listening to it, you may take the man's claims to come from the planet Saturn a little more seriously than you might have otherwise. Ra's music is a journey - to outer space and to inner space - and a very enjoyable one at that.