Getting Into Oakland's Skin: Building the East Bay Green Economy (A Chamber Report 2009)
Submitted by Willi Paul on Fri, 10/23/2009 - 16:57
Axis:Image: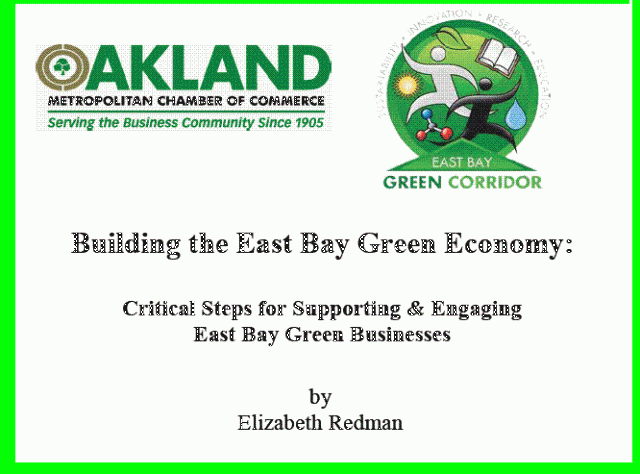 Building the East Bay Green Economy:
Critical Steps for Supporting & Engaging East Bay Green Businesses
by Elizabeth Redman
[ Please download the entire report - attached as pdf below]
The report summarizes the results of five round table discussions held with representatives from East Bay green businesses. It identifies the primary challenges and opportunities confronting regional green companies, maps existing and potential industrialized workforce and educational partnerships, and makes recommendations for further integrating the private sector in the development of workforce training programs, policies, and other regional efforts to make the East Bay a center of innovation for the green technology industry.
With a goal to promote the growth and development of "green" businesses and to create additional green jobs in the East Bay, the Oakland Metropolitan Chamber of Commerce and the East Bay Green Corridor Partnership (EBGCP) worked together to reach out to companies in five sectors of the regional green economy:
-- Energy Efficiency, HVAC and Home Performance
-- Green Building Construction and Materials
-- Solar Energy
-- Recycling and Re-Use
-- Environmental Consulting
In July and August of 2009, the Chamber and EBGCP convened five roundtable discussions with businesses in each of these sectors. In each case, industry leaders discussed the major challenges, opportunities, and priorities of their sector with representatives from regional nonprofit organizations, academic institutions, cities, and government agencies.
Overall recommendations for improving the region's ability to engage with private sector employers include:
1. Engage the business community around specific issues, needs, and opportunities;
2. Shift the emphasis from research & data collection to project management and responding to industry needs;
3. Standardize and harmonize policies and incentives for promoting green tech industry growth among the Corridor cities and partners;
4. Stay mindful of the dynamism and shifting opportunities in all of the subsectors of the greentech industry.
There is a significant opportunity to grow the East Bay Green Economy, but it must be done as a collaborative effort between the private sector and cities, universities, community colleges, training centers, and economic development and marketing associations. Forming real public / private partnerships and finding mechanisms for ongoing industry engagement in the development of policies, promotional materials, incentive programs, and training curriculum should be a key focus of the Oakland Metropolitan Chamber of Commerce and East Bay Green Corridor Partnership in the years ahead. The two organizations should work together closely to make sure that the private sector's priorities are reflected in the collaborative agenda developed by the EBGCP's many public sector and nonprofit partners.
Note: Willi Paul contributed to the Environmental Consulting Round Table.