Urban Localization: A GreenSource Knowledge Paper from PlanetShifter.com - Driven by the Event Circle Interview Series
Submitted by Willi Paul on Wed, 10/14/2009 - 13:53
Axis:Image: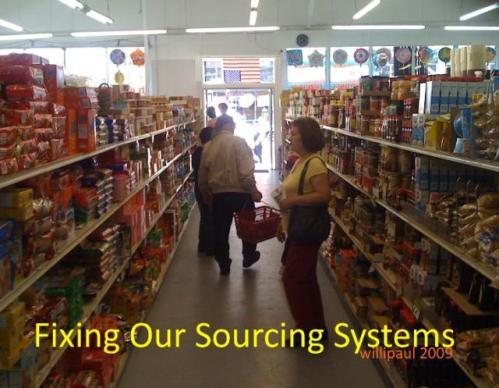 Urban Localization: A GreenSource Knowledge Paper from PlanetShifter.com
Driven by the Event Circle Interview Series
I. What is localization?
From Bay Localize's (draft) Principles of Localization:



Sustainable use and reuse of regional resources

Vibrant economies which circulate wealth and opportunities locally

Social equity in meeting basic needs of all community members

Community control of essential resources

Community empowerment in public decision making

Email from Kirsten Schwind to WP. Kirsten is Program Director at Bay Localize. 09-05-08 (Kirsten at baylocalize dot org)
II. What the Event Circle Experts Say (via 5 categories)?
Healthy Food
It is not that food is grown near-by, but that organic foods now must blend into the mix for all communities from the Mission District in SF to the Whole Foods crowd in Walnut Creek. Food suppliers and restaurants can help their costs and selection by employing a "Local Forager," as Whole Foods does.
This is all about backyard and other urban gardens! Food need to be fresh, healthy, local with a commitment to the local producers who supply it.
Personal Responsibility
Localization mandates increasing levels of self-sufficiency, to the betterment of our families, neighborhoods and towns. Increased responsibility is seen as an change agent role in facing and removing long engrained conflicts associated with our dependence on distant energy and food systems. It is now our challenge to support local ventures and local talent.
Transportation and Production
Local distribution equates to local manufacture and greater transparency of the supply chains and an interdependent sense of responsibility for the land and people.
Shifting Politics and Capital
People can now exert some influence on their local schools and businesses. This produces a significant portion of the goods, services, food, and energy they consume from its own local endowment of financial, natural, and human capital. Regional and local funders loan to area businesses, keeping the community and feedback in mind. Localization hopes to restore an efficient balance between local production and imports.
Environmental Impacts
We need to focus on local and community vs. larger, national efforts and projects. Not just about reducing greenhouse gas emissions, but how the human and natural eco systems support each other on a daily basis. Check out the negative social and environmental externalities of inefficient trade and how if an "energy intensive " approach is viable for locally produced, owned and distributed goods and services.
III. What are the Benefits of Localization?
Localizing our economy and lives offers many benefits, including:



Creates worthwhile jobs and economic opportunities in our communities

Strengthens the local economy by bringing back production and keeping money circulating locally

Reduces our dependence on distant places for essential goods and services

Reduces energy consumed and CO2 emitted in transporting goods and people

Brings the community together and reinvigorates the sense of place and camaraderie

Fosters an appreciation and respect of ecological systems favoring protection and restoration

Makes the economy more manageable as opposed to relying on the vast global marketplace

Refocuses our lives on family, friends, and community instead of place-less networks

Encourages cooperation with neighbors rather than competing for constant gain

IV. Supplemental Data:
The full quotes on the localization question from the Event Circle Interviews are included below:
Earl Brizee, Oakland Whole Foods Market Manager
www.planetshifter.com/node/1311
We work with hundreds of local vendors including East West Gourmet and Gelateria Naia Gelato. Also, I wanted to bring your attention to the Whole Foods Market Local Producer Loan Program – a loan program that is making $10 million available nationally for low-interest loans to small, community-based food producers. In this era of financial instability and with small business loans hard to get, I thought highlighting this program to your small business readers would be very helpful. Whole Foods Market was founded on the concept of fresh, healthy, local food and we remain, to this day, committed to local food and to the producers who supply it.
That said, Whole Foods Market started the program in Feb. 2007 and to date has loaned over $400K to Northern California businesses and over $2 million nationally. Some local recipients include Coracao Confections (www.coracaoconfections.com), St. Benoît Yogurt (www.stbenoit.com) and Kombucha Botanica (www.kombuchabotanica.com). To our knowledge, no other grocery retailer makes loans to its suppliers. Recipients have used the loans to purchase equipment, for the most part, which has helped them collectively increase production.
Finally, Whole Foods Market has a Local Forager – Harvindar Singh – on staff whose sole duty is to focus on local products. He ensures every Northern California store carries unique, local products and also facilitates the loan program. It's also important to note that thru this program, small business not only get the loan, but they get sage advice from Whole Foods Market regarding sales, marketing and distribution.
Trathen Heckman, Daily Acts Organization and Green Sangha
www.planetshifter.com/node/1238
As is often the case with such questions, it depends. While there are countless possible angles to answer this from, it's about what is appropriate to the topic at hand be it food, energy, water, manufacturing? Depending on the scale you are working at there are different strategies. Strategies applied in an urban garden will differ from those that are applied on a two-acre site. It also depends on factors such as modes of transportation. I recently learned that food grown 100 miles away may be more energy intensive than food grown thousands of miles away depending on transportation.
Laura Tam, Sustainable Development Policy Director, San Francisco Planning and Urban Research Association (SPUR)
www.planetshifter.com/node/1341
I don't really use this word, but I certainly believe that local decisions have global implications. Reducing greenhouse gas emissions, for example, is an essential local response to a pressing global issue.
Inna Leavitt, The reMake Lounge, SF
www.planetshifter.com/node/1292
I think of localization in terms of self-sufficiency. When a community can rely on itself for its needs it removes the conflicts associated with dependence. Keeping things regional is also environmentally friendly as shipping and transportation accounts for a huge chunk of our impact. I really appreciate supporting local ventures and taking advantage of the local talent.
Scot Case, VP, TerraChoice
www.planetshifter.com/node/1327
Very carefully. Localization is just one part of the sustainability puzzle. It is a term, like sustainability, that has many different definitions depending on who is defining it. Some people use it to mean local distribution, while others use it to mean local manufacture using only locally available resources. Instead of focusing on localization, I tend to focus on the global environmental benefits.
Dara O'Rourke, CEO, GoodGuide.com
www.planetshifter.com/node/1299
We are currently focused on rating manufactured products such as personal care, household chemicals, toys, and food. We are gradually adding more data on the country of origin as it is required by law (such as with fruits and vegetables this year).
Unfortunately, for most products, it is virtually impossible to find out the exact location of the factory or farm. One of our goals with GoodGuide is to work with other stakeholders to motivate greater transparency of the supply chains that produce the products we consume.
Amy Tobin, Executive Director, The Brower Center
www.planetshifter.com/node/1318
How far do you need to go to get basic goods and services? How far must goods and services travel to get to you? How much does your immediate, physical community support itself by exchanging goods and services? Do you feel an interdependent sense of responsibility for the land and people around you?
Tom Kelly, Kyotousa.org and HELiOS Project
www.planetshifter.com/node/1306
It's where you, as a citizen, are able to exert some influence, e.g. local government, school, university, workplace, place of worship, and the like. "You can't change the world, but you can change the world you live in." And one motivated person or small group can have a truly remarkable effect.
Aaron Lehmer Bay Localize
www.planetshifter.com/node/350
Economic localization is the process by which a region, county, city, or even neighborhood frees itself from an overdependence on the global economy to a more self-reliant economy that invests in its own resources to provide for its needs. Most importantly, a more localized economy produces a significant portion of the goods, services, food, and energy it consumes from its own local endowment of financial, natural, and human capital. Economic localization brings production of goods and services closer to their point of consumption, reducing the need to rely on long supply chains and distant markets so that communities and regions can, for the most part, provision themselves. While it is certainly not possible to produce every kind of good and service locally, economic localization seeks to restore an efficient balance between local production and imports that reduces local economic vulnerability and minimizes the negative social and environmental externalities of inefficient trade.
Patricia Dines, Writer, Public Speaker, and Community Educator
www.planetshifter.com/node/1244
We'll get what we support. Local and organic are not inherently tied, so I encourage people to support both and understand the specific benefits that each brings. Local generally increases freshness, reduces food transportation pollution, and encourages a local food supply; organic stops the poisoning of our earth and its people, and helps farmers return to working with nature. Both are valuable outcomes to nurture!
Lisa Francioni, Project Manager, California Sustainable Winegrowing Alliance, and Environmental Affairs Coordinator, at the SF-based Wine Institute
www.planetshifter.com/node/1355
While CSWA recognizes that buying local is an important part of sustainability for the many benefits it creates by limiting emissions and fuel use from travel, keeping money in the local economy and supporting the community, we do not have any official definition of localization. Another important aspect of localization is knowledge of where products come from and how they are produced. We hope that consumers recognize that environmental stewardship and social responsibility are among the many reasons they should consider enjoying California wine.
Anca Novacovici - Eco-Coach, Inc.
www.planetshifter.com/node/1337
Localization is adapting a product to a local market. If this were to be applied to the world of sustainability, it would mean focusing on local and community vs. larger, national efforts and projects.