Sustained Vision - The Bay Area Green Business Program
Submitted by Willi Paul on Sat, 08/08/2009 - 17:29
Axis:Image: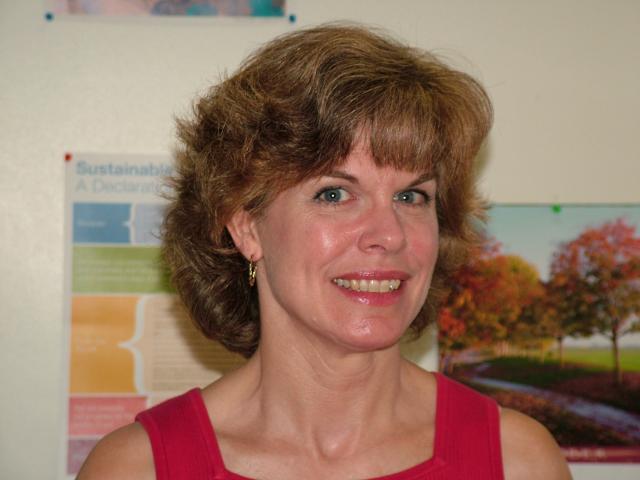 Interview with Pam Evans, Coordinator
Alameda Co. Green Business Program
http://www.greenbiz.ca.gov/index.html
by Willi Paul
The Bay Area Green Business Program (GBP) verifies that businesses meet higher standards of environmental performance. Our partnership of government agencies and utilities helps local businesses comply with all environmental regulations and take actions to conserve resources, prevent pollution, and minimize waste. We offer motivated businesses and agencies an easy-to-use framework for improving environmental performance. Over 1,600 businesses and public agencies have been certified since 1997.
The Program was developed by Bay Area local governments in collaboration with US EPA, Cal EPA Department of Toxic Substances Control and the business community. The Association of Bay Area Governments coordinates the Program, which is implemented by Green Business Coordinators in 9 participating counties. The regional and local programs are funded by their partners, including local and regional government agencies, utilities, special districts and nonprofit organizations that promote environmental compliance, pollution prevention and resource conservation. Some funding also comes from government and non-profit foundation grants.
What values / programs are state-of-the-art in the GBP in your view? What needs to be improved?
The GBP offers an environmental performance certification to an underserved sector of the business community - small, locally-based businesses. Unlike some other environmental recognitions, the Bay Area Green Business certification is comprehensive in how it looks at resource use, and includes environmental compliance. We've worked very hard to ensure that program standards and the certification process is consistent among the local programs that make up the Bay Area Green Business Program.
We directly involve technical experts in the program areas (energy conservation, water conservation, waste reduction, pollution prevention and environmental compliance) so that the GB candidate gets their information straight from the horse's mouth – and at no cost to them. Candidates also get direct access to information on rebates and grants that can help them implement additional 'green' measures.
Still, our resources are pretty limited. Candidates could use more 'up front' assistance with their applications and implementing additional needed measures to qualify for the certification. Also, because our assessment partners are donating their time and do not work for the Green Business Program, we don't control their schedules. It can take several weeks or a few months to complete some assessments.
How does the Green Business Program define "localization?" How you see this personally?
"Alameda County has since worked with the regional program to develop checklists for restaurants, landscapers, hotels, offices and more! Nearly any small to medium-sized business or or non-profit can become certified." Can you give us specific examples please?
See attached checklists that show standards for some of these sectors.
How has member outreach for the Green Business Program changed since you started it?
We started working sector by sector. First, we did outreach to and developed industry-specific standards for automotive repair, then printers, then hotels, then landscapers.
We were trying to focus on business types that could have greater environmental impacts from their processes. Meanwhile, we were getting a lot of pressure from 'white collar' businesses such as attorneys, banks, consultants and so on to become certified as GBs. These groups were very proactive about completing checklists and implementing more than the minimum measures needed to move forward. So, we developed an office checklist and opened the GB certification to a wider range of small- to medium-sized, locally-based businesses. We did continue developing sector-specific checklists for business types that our program partners were interested in working with, including restaurants and dentists.
In terms of outreach, we are now focusing on general business-to-business networking opportunities, especially when a sponsoring organization is especially interested in promoting the GBP to its members or target group. We also collaborate extensively with 'green' oriented business groups such as The Green Chamber of Commerce and the Sustainable Business Alliance.
How long does it typically take to complete the process now?
A few weeks for a well prepared candidate that meets the standards at the outset. As long as several months if the business has more environmental regulatory issues, particularly if not in compliance at the outset of the process. Sometimes businesses find they must change their lighting or toilets in order to meet the standards.
Pamela Evans Bio
Pamela has worked in toxics regulation since 1980 and in pollution prevention and community toxics programs since 1990. Since 1997, she has coordinated Alameda County's Green Business certification program, a pilot effort that has led the way for eight other locally run Bay Area Green Business Programs. Green Business certification integrates environmental regulatory compliance with resource conservation and pollution prevention.
Over 35 government agencies, utilities and business service organizations are partners in Alameda County's effort, which has certified over 300 businesses, utilities, nonprofits and government operations. Forming partnerships with industry, government, special district and utility stakeholders, the Green Business Program has identified major industry-specific benchmarks for environmentally responsible practices. The GBP also works with partners and the business community to resolve regulatory and other barriers to Program implementation.